I am having trouble holding off on the fall recipes this year.  I have to admit that I was breaking out the fall spices (and even some pumpkin from the freezer) a few weeks ago! I held off on sharing any recipes too early on, though… I didn't want you to lose all respect for me!
Now that Labor Day has come and gone, though, I couldn't wait any longer to share this recipe for spiced caramel sauce. Think of it as a cross between pumpkin spice syrup (that fabulous stuff they put in the ever popular pumpkin spice lattes) and salted caramel. While I did not put any actual pumpkin in the sauce, the spices are certainly reminiscent of all things pumpkin spice. And, when you combine that with caramel, it just tastes like fall… Sweet, slightly salty fall.
Since I made the sauce about 2 weeks ago (and we have devoured every last drop of it already!), I can tell you that it's pretty versatile stuff.  It adds great flavor to coffee drinks (and I'll share a recipe soon!), you can use it for some tasty fall baking, or you can just dip nice crisp apple wedges in it. And, those are just a few suggestions.  I suppose it would also be delicious by the spoonful right from the jar, but I'd just be speculating.
Regardless of how you plan to use it, I'd recommend whipping up a batch of this caramel sauce. It's pretty fast and easy to make. If you're intimidated by caramel (which I can relate to!), just grab a candy thermometer, and you should have no trouble at all! It also helps to have all of your ingredients prepped and ready to go before you put the sugar on the stove. And, if you're still nervous, I've included step by step photos so that you can see exactly what my caramel looked like throughout the whole process.
Now, without further ado, let's get right to the caramel, shall we?
Spiced Caramel Sauce
Makes about 3 cups of sauce
2 cups granulated sugar
1/2 cup (1 stick) good quality salted butter, cut into chunks
1 cup half and half
(Of course, heavy cream also works, but I never actually have it in my fridge)
2 teaspoons ground cinnamon
1/2 teaspoon ground ginger
1/4 teaspoon ground cardamom
Be sure to have all ingredients measured out and ready to go before getting started.  Let the butter and half and half come to room temperature.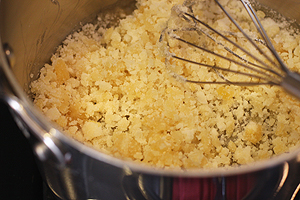 When you are ready to make the caramel sauce, place the 2 cups of sugar in a medium saucepan fitted with a candy thermometer (you want to have extra room in the pan, so don't use a small pan). Heat the sugar over medium-high heat, using a whisk to occasionally stir the sugar as it begins to melt. As the sugar starts to clump up, stop stirring and allow the sugar to simply melt in the pan.
Continue to melt the sugar, swirling the pan gently, if necessary, to make sure that the sugar is melting evenly.  The sugar will first melt and then darken as it caramelizes. As soon as the melted sugar reaches a rich auburn color, and the temperature reaches about 345 – 350°F, remove the pan from the heat.  Carefully add the butter to the pan (it may bubble up a bit, but that's OK) and whisk until the caramel sauce is smooth.
Next, slowly add the half and half and the spices, continuing to whisk constantly.  The caramel may get a bit lumpy as you add the half and half, but it will smooth out as you continue whisking.  Once the caramel is smooth, let it cool and thicken at room temperature, whisking every once in a while.
Transfer the cooled caramel to an airtight container and store in the refrigerator for up to 2 weeks (if it lasts that long).