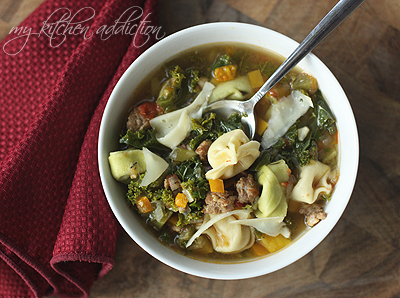 In the last week or two, I've been taking advantage of my slow cooker quite a bit. The cooler weather has been a welcome change.  Suddenly soups and other slow cooked meals are sounding much more appealing to me. It also helps that a little bit of effort in the morning (when I actually have some energy) means I don't have too much to do to get dinner on the table later in the day.  I'll take whatever help I can get these days!
Even though we've been enjoying cooler weather, we are also still enjoying lots of great fresh vegetables from our CSA and garden. So, I have been incorporating them into just about everything I've been making.  This tortellini soup is no exception. Loaded with bell peppers, zucchini, fresh tomatoes, and kale, there's no need to bother with a side salad.  The salad is in the soup! Once you add the sausage and tortellini, it's pretty much a complete meal.  You won't get an argument from me about a one dish dinner… Especially when it tastes this great!
Slow Cooker Tortellini Soup
Makes 8 – 10 large servings
1 pound sweet Italian sausage, casings removed
3 cloves garlic, minced
1 yellow onion, diced (about 1 cup)
1 orange bell pepper, diced(about 1 1/2 cups)
1 green bell pepper, diced (about 1 1/2 cups)
3 cups diced fresh tomatoes
1 small yellow zucchini (about 1 1/2 cups)
6 cups vegetable stock
1 1/2 teaspoons Italian seasoning
Kosher salt
Freshly ground pepper
20 ounce package of cheese tortellini
Large bunch of kale, thick stems removed and chopped
Parmigiano-Reggiano cheese (optional)
Brown the sausage in a skillet (or in your slow cooker insert if it is safe to use on the stove).  Stir in the garlic, onion, and bell pepper, and cook for an additional minute or two.  Transfer the mixture to your slow cooker.
Add the tomatoes, zucchini, stock, and Italian seasoning.  Season with salt and pepper. Stir to combine, cover, and cook on low for 6 – 8 hours.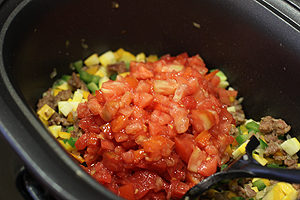 About 30 minutes before serving, stir in the tortellini and chopped kale.  Cover and continue to cook on low for 30 minutes.  Serve topped with shaved Parmigiano-Reggiano cheese, if desired.