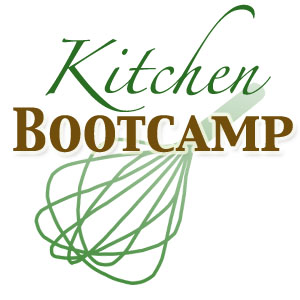 Time for a new Kitchen Bootcamp challenge!  Since I will be otherwise occupied towards the end of September and the beginning of October, I have opted to do an extended challenge this time around…  But, I think it's a good one!
With the arrival of fall comes the arrival of baking season.  In the heat of summer, the last thing I want to do is crank up the heat in my kitchen by baking all afternoon.  I always welcome the cool fall air since it always puts me back in a baking mood.
Since we're doing a bit of an extended challenge, I thought we'd tackle a good topic (and one of my favorites!)… Yeast Breads!
Don't stop reading!  Baking with yeast shouldn't be scary, and the fall is the perfect time to get started.  Plus, I think you'll find that The New Best Recipe (our current guide for Kitchen Bootcamp challenges) covers the basics of baking with yeast quite well (look for Chapter 17).  You'll find everything from tips on technique, measuring and kneading to recipes for sandwich bread, crescent rolls, bagels, and even doughnuts.  There's something for everyone… And, every level of experience!
As always, you are encouraged to use any sources at your disposal for the challenge, and you do not have to use The New Best Recipe.  If you're looking for tips on baking with yeast, you can check out my post on the basics of yeast, as well!  You'll also find great information on baking with yeast, as well as some well-tested proven recipes, from Red Star Yeast and King Arthur Flour (and nope, they didn't sponsor this post or challenge!).
My plan is to post all of your fabulous yeast bread blog posts on Monday, October 29th.  So, please be sure to submit your blog posts (as well as photos, if you would like to have them included!) by Sunday, October 28th. Happy baking!
Please Note – The links to The New Best Recipe provided in this post are Amazon affiliate links.  If you purchase this cookbook (or another item) after  clicking on my link, I receive a small percentage of the sale price, which helps to keep My Kitchen Addiction up and running. Thanks!
While I do have an affiliation with Red Star Yeast, this post was in no way sponsored by them.  I simply think they have a great website that will serve as a good resource for this particular challenge!