I need a bit of a favor.  Next spring when I tell you that I am planning my garden and bought zucchini seeds, remind me to go back and read this post.
For some reason, when I was planting the garden a few months ago, it seemed like a good idea to put in three zucchini plants.  After all, I love baking zucchini bread.  No problem, right? Wrong.
My zucchini plants took off. We've been picking zucchini for weeks, and it seems that every time we go outside there's another zucchini on the plant just waiting to be picked.  We neglected the plants for a few days when we were out of town two weeks ago, and we came home to two giant zucchini.  Surprise! I'm not just talking about slightly larger than usual zucchini, either. I'm talking about zucchini that are about as big as my puffy pregnant legs. There was no way I was going to be able to bake my way out of that situation.
Of course, I am also one who can't stand to waste food… Even if that food is overabundant zucchini. So, I needed to act, and I needed to do it fast…  Preferably before we found even more zucchini in the garden!
Don't worry, there is a happy ending to this story. I figured out exactly what to do with the zucchini. I stashed it in the freezer for later! Not only did I get it out of my kitchen, but I now have a stash of zucchini for baking this fall and winter. It's a win-win!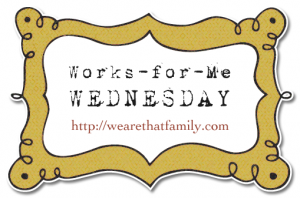 How to Freeze Shredded Zucchini
Sometimes stocking the freezer for later can seem like a lot of work.  A lot of veggies require blanching before they can be frozen, which always sounds hot and steamy to me in the middle of the summer. Fortunately, shredded zucchini doesn't require much work.  Here are the simple steps…
Shred the Zucchini – Simple enough, right? When I have a lot of zucchini on hand, I like to use my food processor for this, but a box grater works just as well. I generally don't peel the zucchini unless the skin is particularly tough.  If you have giant leg-sized zucchini, just scoop out the mature seeds from the center and shred the rest of the zucchini.
Portion Out the Zucchini – It's easiest to store the zucchini in portions that work well for recipes. My preference is to store the zucchini in 1 cup portions.  Simply measure out 1 packed cup of shredded zucchini and transfer it to a zipper sandwich bag.
Seal the Individual Bags – Be sure to squeeze the air out of each sandwich bag and seal them well so that the zucchini keeps well.
Double Bag and Label – Sandwich bags aren't really designed for freezer storage, so I like to double bag my zucchini.  I put 4 of the small sandwich bag portions in a larger freezer bag.  Then, be sure to label the bag so you remember what it is in a few months when you're digging through the freezer.
Freeze It! Just put the zucchini in the freezer and you're good to go.

Baking with Frozen Zucchini
You can use the frozen zucchini in just about any recipe that calls for shredded zucchini.  Simply remove it from the freezer and thaw it in a mesh strainer or colander (to remove excess moisture) before using it in the recipe!
Need a few recipe ideas? Here are a few of my favorites from the My Kitchen Addiction archives…