You've probably heard of these mock zucchini "crab" cakes before… I've been seeing recipes for them for years, but I never really liked them. Until now.
I think my problem with most recipes I've seen (and a few that I've tried) was the excessive amount of Old Bay seasoning in the recipes.  Sure, I understand that Old Bay and crab cakes often go together… But, I happen to believe that adding more Old Bay to make up for the lack of real crab doesn't really do the recipe any favors.  I should also mention that I'm not a huge fan of Old Bay seasoning. I like it in moderation, not by the tablespoon.
For some reason, though, I decided earlier this week that I was going to give the zucchini "crab" cakes another shot.  Plus, I was dying to make some tartar sauce with a jar of carrot and zucchini pickles in the fridge, and they seemed like the perfect vessel for some homemade tartar sauce.
Because I wanted a starting point for the recipe, I did a quick search and came across this recipe from the Washington Post (from 2007!). I liked that the recipe was pretty quick and easy.  I also liked that it didn't call for a whole can of Old Bay seasoning.  So, I gave it a try. I did modify the recipe a bit, scaling back the Old Bay a bit more and using what I had on hand. In the end, the "crab" cakes turned out wonderfully. Color me surprised.
My hubby and I both enjoyed these…  I didn't think he'd be much of a fan, but we were both surprised at how good they are.  As I had hoped, they were also wonderful with my homemade tartar sauce.  We enjoyed them on their own and also made some "crab" cake sandwiches with lettuce, tomato, and a whole wheat bun.  Next time (and there will be a next time), I think I am going to make them a bit smaller and serve them as appetizers!
Zucchini "Crab" Cakes
Makes 6, serves 2-4
(Adapted from the Washington Post)
2 cups grated zucchini
1/2 teaspoon Kosher salt
1 cup bread crumbs
1 egg
1 tablespoon mayonnaise
1 teaspoon Old Bay seasoning
1 teaspoon Dijon mustard
1 handful fresh parsley, chopped
Freshly ground black pepper
2 tablespoons extra virgin olive oil
Homemade tartar sauce (optional)
Sprinkle the zucchini with the salt and toss to combine. Transfer to a colander and allow to drain for 30 minutes.  Squeeze out any excess moisture and transfer the zucchini to a large mixing bowl.  Add the bread crumbs and toss to combine.
In a separate mixing bowl, whisk together the egg, mayonnaise, Old Bay seasoning, mustard, and parsley.  Pour the wet mixture over the zucchini and bread crumbs. Season with black pepper.  Toss to combine until the wet mixture is completely incorporated into the zucchini and bread crumbs. Shape the mixture into 6 cakes and set aside.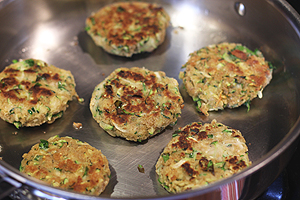 Heat the oil in a large skillet over medium heat.  Once the oil is hot, add the cakes to the pan.  Cook for 4-5 minutes on each side, until golden brown. Serve warm with homemade tartar sauce, if desired.