Today I'm doing something a bit different… Instead of sharing a new recipe or kitchen tip with you, I thought it would be fun to give you a glimpse inside the new Savory Sweet Life cookbook by Alice Currah (author of one of my favorite blogs, Savory Sweet Life).
If you read my blog regularly, you know that I don't write many cookbook reviews.  I mention some of my favorite cookbooks from time to time, but I rarely take the time to write a post specifically about a cookbook.  There are a few reasons for that.  One reason is that I only highlight things that I truly love (and, Alice's cookbook certainly falls into that category!).  Another reason is that I like to make sure I give a cookbook a fair chance before I write about it.  For me, that means testing at least 3-4 recipes (if not more) from the book before offering up my opinion.  I don't always have time for that, and some books don't have 3-4 recipes that are really calling my name.  But, when I picked up Alice's cookbook, I had a hard time deciding which recipes I wanted to try first… I wanted to make them all!
I've known Alice for a while… Like many bloggers, we were blog friends long before we finally had a chance to meet two summers ago at the Big Summer Potluck.  She's just as sweet and kind in person as you would expect from reading her blog posts… I just wish I saw her more often!
I can also tell you that Alice's recipes are top notch.  I've been cooking and baking from her blog for years… And, I have a few favorite go-to recipes that are Alice originals.  I am thrilled to be able to tell you that after trying quite a few recipes from the book that her cookbook is no different.  Her cookbook has earned a permanent spot on my kitchen shelf… And, I can't say that for too many cookbooks!
So, today I thought I'd take the time to highlight a few of my favorite recipes (so far!) from the Savory Sweet Life cookbook.  And, if you want a sneak peek recipe to try for yourself, be sure to stop by tomorrow!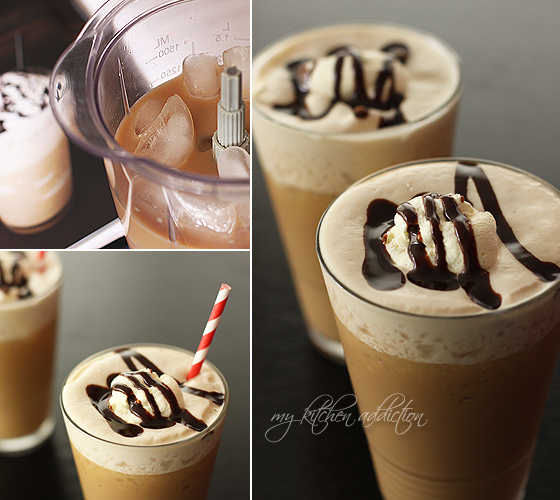 One of the first recipes in the book that caught my eye was the recipe for Coffee Frappes (page 55)… This homemade version of my favorite summertime drink at Starbucks was an instant winner with me. The best part about making your own frappe (aside from saving about $5!) is that you can customize it any way you want.  The original version in the book is a great place to start… Then, your only limit is your imagination! You can make mocha, caramel, and chocolate chip versions. Want yours a bit stronger? Add some more coffee! A bit too sweet for your tastes? You can add less sugar!
I made Alice's Heavenly Almond Pound Cake (page 144) for a group of friends a few weeks ago… I expected it to be good, but I had no idea how good.  Everyone in the group agreed that this is the ultimate pound cake recipe.  While many pound cakes beg for toppings, we all thought that this luscious cake is perfect all by itself.  You can bake the cake in a tube pan or in two loaf pans (and even freeze one for later!).  Either way, I think you'll love the way the slices have a light, crisp crust and a nice velvety rich texture on the inside. I may never make another pound cake recipe again.
Chicken satay with peanut sauce is another favorite of mine.  So, I knew I couldn't go wrong with the Thai Marinated Grilled Chicken Skewers with Peanut Coconut Sauce (page 86). The marinade for the chicken is just lovely, and smells even better when the chicken is on the grill.  The peanut sauce recipe (which also yields plenty of leftovers for experimenting after the fact!) is great, as well.  I found that the skewers were perfect with a side of grilled pineapple.  And, I might add that the leftovers made some fantastic quesadillas the next day!
Finally, I have to mention Alice's famous chocolate chip cookies.  She refers to them as The Best Chocolate Chip Cookies Ever (page 260), a title that she has earned in the past few years with one of the most popular cookie recipes online.  The cookies are loaded with chocolate chips and have just the right balance between crisp and chewy. While I'm not sure they will permanently replace my go to recipe for chocolate chip cookies, I can tell you I will make them again. And, I recommend that you give them a try yourself!
Want to try Alice's famous cookies? I'll be sharing the chocolate chip cookie recipe here tomorrow, so be sure to come back!
My Kitchen Addiction Product Review Policy and Disclosure–
I received this cookbook (Savory Sweet Life) at no cost from the publisher (or a representative PR firm) for the purpose of testing and reviewing the book. Unless otherwise specified, I do not accept monetary compensation for reviewing or writing about products. I only review products that I have personally tested and used in my kitchen/home, and all opinions expressed are my own.
Please Note – The links to the Savory Sweet Life cookbook provided in this post is an Amazon affiliate link.  If you purchase this cookbook (or another item) after clicking on my link, I receive a small percentage of the sale price, which helps to keep My Kitchen Addiction up and running. Thanks!