I get a lot of questions about the various kitchen tools and appliances that I use… And, I find that that my posts on baking with yeast seem to draw the most questions.  It seems to me that a lot of people would love to start baking, especially with yeast, but aren't ready to commit to a large purchase, such as a stand mixer. I totally understand that!
I find that I tend to rely on my stand mixer (as well as my dough whisk and other more specialized tools) because I have it on hand… And, I often tend to present recipes from that perspective, even though many of them could be prepared by hand. So, for this month's baking recipe from Red Star Yeast, I decided to take a step back and share a recipe that can easily be made by hand.  I put away the fancy tools and simply used a wooden spoon.
In addition to the fact that no fancy tools are required, these tasty spice puffs also don't require any kneading.  So, they are a great place to start if you're new to baking with yeast.  I've also provided step-by-step photos of the whole process, so there's no need to be intimidated!  The recipe comes together quickly and can easily be made in an afternoon.
I was really pleased with how the spice puffs turned out… They reminded me a bit of donut holes, except that they aren't fried! Both my hubby and I enjoyed munching on them for a mid-afternoon snack. Paired with some fresh fruit, they also are a great addition to a weekend brunch.
I did make a few small changes to the recipe as I was baking the puffs, though.  I typically do not like to bake with margarine, so I opted to use softened butter instead. I also think the butter adds a nice rich flavor to the finished puffs that you wouldn't get from margarine.
I also opted to leave out the mace in the recipe and use ground cardamom instead.  Mace isn't a spice that I use frequently, and I didn't have any on hand.  Instead of running to the store to pick some up just for this recipe, I thought the cardamom would be a nice addition instead. Feel free to use either one, or leave them both out if they are not flavors you enjoy.
No Knead Batterway Spice Puffs
Makes about 2 dozen
(Recipe slightly adapted from Red Star Yeast; Used with permission)
For the rolls:
1/2 cup warm water (110-115

°F

)
4 1/2 teaspoons (2 packets) active dry yeast
1/2 cup warm milk (

110-115°F

)
1/4 cup unsalted butter, softened
6 tablespoons granulated sugar
1/2 teaspoon salt
1/2 teaspoon ground nutmeg
1/2 teaspoon mace
(Jen's Note – I substituted 1/4 teaspoon ground cardamom)
3 1/4 cups bread flour
2 eggs
For the topping:
1/2 cup granulated sugar
1 teaspoon ground cinnamon
1/2 cup unsalted butter, melted
In a small bowl, combine the warm water and the yeast.  Whisk to dissolve the yeast in the water, and set aside.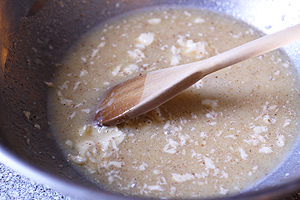 In a large mixing bowl, combine the warm milk, softened butter, sugar, salt, and spices.  Stir until slightly cooled.  Add half of the flour, half of the yeast mixture, and one egg.  Beat vigorously with the wooden spoon until the mixture is smooth, about 2 minutes.  Add the remaining flour, yeast mixture, and egg and beat again until well incorporated and smooth (though the batter may be a bit sticky), about one additional minute.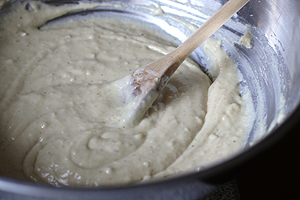 Scrape the batter down from the sides of the bowl.  Cover and let rise until doubled, approximately 30 minutes.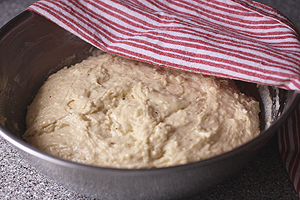 While the batter is rising, lightly grease two standard 12 cup muffin pans.
Once the batter has risen, beat it down with a wooden spoon in approximately 25 strokes.  Scoop the batter into the prepared muffin cups, filling them about half-full.  Tap the pans to settle the batter.  Let the batter rise until it reaches the tops of the muffin cups.
Meanwhile, preheat the oven to 400°F. Bake the puffs for 10-15 minutes, until well browned on the sides and the tops. Tip the puffs sideways in the pans to allow the to cool slightly before adding the topping.
While the puffs are cooling, stir together the granulated sugar and cinnamon in a small bowl for the topping.  Once the puffs have cooled slightly, dip the tops and sides in teh melted butter and then roll them in the cinnamon-sugar mixture.  Serve immediately while still warm.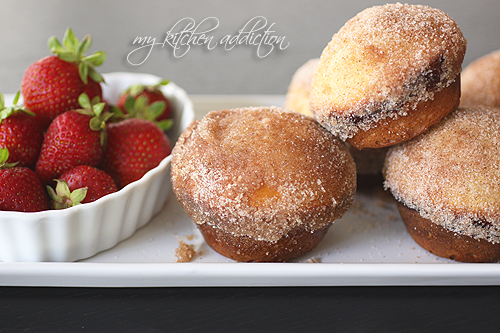 My Kitchen Addiction Disclosure – This post was sponsored by Red Star Yeast.  Though I have been compensated to write this post, all opinions expressed are my own.