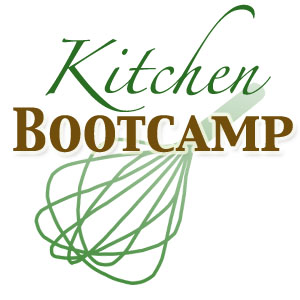 June is here, and it's time to announce the new Kitchen Bootcamp challenge!
Since our CSA started a few weeks ago, we've had more lettuce than I know what to do with.  So, you might say that I have salads on the brain.  I try to mix things up and be creative, but I can always use a little help when it comes to salads.  So, I thought it would be fun to tackle the Salads chapter (chapter 3) in The New Best Recipe this month. Are you with me?
Of course, if you aren't up to your ears in lettuce, there are plenty of other options for this month's challenge! The chapter covers everything from great recipes for homemade mayonnaise and dressings to ideas for great ways to jazz up your lettuce salads to tuna and chicken salads. There's something for everyone…  And, hopefully we can all eat a bit more salad this month. I don't think that would be such a bad thing!
I'll be using The New Best Recipe as my guide for this month's challenge, but you are welcome to use whatever sources you have available to you. And, of course, feel free to be creative and come up with your own ideas, too! The point of the challenge is to try something new!
Want to bounce ideas off of other Kitchen Bootcamp participants? Be sure to check out the Facebook group.  It's a great place for discussion during the challenge… And, it's a good way to ask questions, as well!
I'll be posting the roundup on for this month's challenge on Friday, June 29th, so please be sure to submit your recipes no later than Thursday, June 28th to be sure that your blog post is included! And, as always, if you would like to have a photo included in the roundup, be sure to submit it along with your blog post.
Please Note – The links to The New Best Recipe provided in this post are Amazon affiliate links.