While I usually just stick to recipes and kitchen tips, I do throw in a few personal stories and anecdotes from time to time. And, today happens to be one of those times where I have some personal news to share.
We've got a bun in the oven! And, I'm not just referring to the sweet strawberry buns you see pictured here. My husband and I are expecting our first child in early October, and we couldn't be more excited! Of course, Yellowdog is excited, as well. She loves babies, and we have a hunch that she'll be spending a lot of time keeping a close eye (or snout?) on the new addition to the family.
Somehow, we managed to keep things quiet for a while… And, it's hard to believe we're getting close to the halfway mark. Everything is going pretty well. After spending much of the first few months feeling sick and having very little appetite (you may have noticed some bland recipes and a lack of comments from me on your blog over the past few months), I have started to feel a bit better. I'm also starting to enjoy being in the kitchen again, which is good news for everyone… Especially my hubby who has had to suffer through whatever I felt like (or didn't feel like) making for dinner. He's a trooper.
If you're worried that this is going to turn into a baby or parenting blog, I can assure you that it won't. While I'm beyond excited about the new addition to my family, I still plan to keep on blogging about my favorite recipes and kitchen tips.  Sure, you may see a recipe or two for kid-friendly food in the future, but it won't be my focus. After all, I'm really looking forward to eating a nice medium steak and some gorgozola cheese as soon as I'm allowed.
So, now that everyone's up to date, let's talk about the other buns in the oven, shall we? I was trying to think of a fun food to make to go along with my big announcement, and somehow my brain came up with these sweet strawberry buns.  Basically, they are cinnamon rolls (made with nice buttery dough) minus the cinnamon that have been stuffed with homemade strawberry jam instead.  And, in case that wasn't enough, I also drizzled them with a sweet vanilla glaze. They may not be revolutionary, but they are certainly tasty.
Sweet Strawberry Buns
Makes two 9 by 9-inch pans, 32 small buns
1 cup warm milk
1/4 cup granulated sugar
2 1/4 teaspoons (1 packet) active dry yeast
1/2 cup (1 stick) unsalted butter, softened
1 egg
1 teaspoon salt
3 – 3 1/2 cups bread flour
8 ounce jar of strawberry jam
2 cups powdered sugar
2 – 3 tablespoons of half and half (or milk/cream)
1/2 teaspoon pure vanilla extract
Begin by preparing the dough.  In a large mixing bowl, whisk together the warm milk, sugar, and yeast until the sugar and yeast are well dissolved.  Add the softened butter, egg, salt, and about 1 cup of bread flour.  Beat together (either by hand or using a mixer) for a few minutes.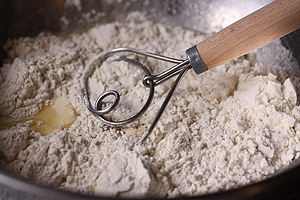 Gradually add the remaining bread flour, stirring by hand, until a soft dough starts to form and pulls away from the sides of the bowl.  Use your hands to knead the dough until it is smooth, adding only enough flour to keep the dough from sticking to your hands.
Shape the dough into a smooth ball and transfer to an oiled bowl.  Cover and let rise until the dough has just about doubled in volume and the imprint of two fingers remains.
Meanwhile, grease two 9 by 9-inch baking dishes (or 9-inch pie plates) and set aside.
Once the dough has risen, punch it down, divide it into two halves and place one half of the dough on a lighty floured surface.  Roll the dough out into a large square.  Spread half of the strawberry jam thinly over the dough and roll up into a log (as tightly as you can so that the jam isn't squirting out everywhere).  Cut the dough into 16 (mostly) equal slices, and place them cut-side up in one of the prepared baking dishes.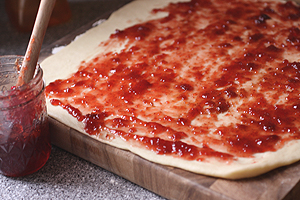 Repeat with the remaining dough, jam, and the second baking dish.  Cover the dishes and let the rolls rise until they are slightly puffy (about 45 minutes – 1 hour).
As the rolls finish rising, preheat the oven to 425°F.  Bake the rolls for about 15 minutes, until slightly golden on top.  Cool in the baking dish on a wire rack.
As the rolls are cooling, prepare the glaze by whisking together the powdered sugar, half and half, and vanilla extract. Add more half and half, if necessary.  Drizzle the glaze over the rolls and serve warm.