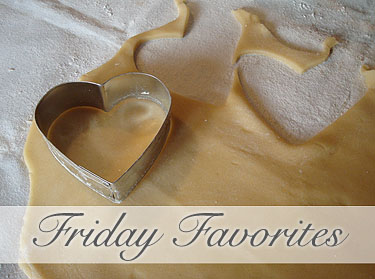 You may have noticed that I've dropped the ball on Friday Favorites for the last few weeks…  I have been pretty busy and it just slipped my mind.  Imagine that!
But, this week, I am happy to say that the Friday Favorites are back with a fresh set of picks from the lovely Aimée from Simple Bites and Under the High Chair.  Aimée is one of my favorite bloggers, and I'm also lucky to call her a good friend.  I'm honored that she took time from her very busy schedule (especially with a new baby girl at home!) to share a few of her favorite recipes.  I'm pretty sure you'll agree that she has impeccable taste!
Thanks so much for stopping by, Aimée!
Tell me, what are your (current) favorite ingredients to play around with in the kitchen?
Organic whole-wheat flour, yeast, local honey, and buttermilk. I'm playing around with my childhood bread recipe – a honey whole-wheat loaf – and trying to perfect a soft hamburger bun. I even made hot dog buns last week! Oh, and there's always pancakes.
What's one item in your kitchen that you just can't live without?
Um, anything that produces coffee! We have a new baby in the house and coffee is ESSENTIAL for daily function.
I grew up drinking French Press-made coffee, but we currently use a Breville Barista espresso machine for specialty coffees.
If you could pick 3 of the recipes that you have developed that best describe you, what would they be?
I'm half British (my father was born across the pond) so I love to recreate the classic English favorites with a Canadian twist. Perhaps my most successful adaptation is my homemade mincemeat which incorporates local apples, cider, maple syrup and whisky (no meat!). I bake it up into tarts and pies every holiday season.
My whole-wheat buttermilk rolls that are baked in a jam jar are a healthier version of an all-white dinner roll – and they're cute to boot!
I traveled extensively in South East Asia in my early twenties, which left me with a lasting love of Thai flavors. I incorporated a few of them when I developed a comforting slow-cooker Coconut Ginger Chicken & Vegetable Stew.
What recipes from other bloggers have caught your eye this week?
Ashley gave us a Caramel Chocolate Chunk Cookie recipe recently, but above and beyond that, she wrote a beautiful tribute to motherhood.
I'm a sucker for rhubarb, so these Rhubarb Tarts with Orange-Honey Fromage Blanc from Stephanie at Desserts for Breakfast won me over in an instant.
Finally, scrolling through these Almond Waffles from Roost made me hungry instantly!
What's the coolest thing you saw on Pinterest this week?
I'm loving this decked-out S'mores party! We have an open-pit campfire in our back yard and love ending the day by toasting marshmallows (homemade, of course) with the kids. We're all about the s'mores all summer long.