Almost every time I ask my husband what kind of cookies he would like me to bake, he says "chocolate chip." A lot of times, I think I give him somewhat of a frustrated and annoyed look (sorry, hon!). It's not that I don't love chocolate chip cookies, it's just that I always feel like they are kind of basic.  For some reason, I feel as though he should respond with something like "triple chocolate chunk cookies with a sprinkle of sea salt."  He's never going to say that.
I'm not sure why I think that there's something much more respectable about making a cookie with sophisticated or complex flavors… I think my inner foodie (I apologize if you hate that word) gets the best of me sometimes. I love to cook and bake… And, I also love to experiment with new flavors.  But, sometimes I need a bit of a reminder, that there's absolutely nothing with the basics. In fact, sometimes the basics are better.  Just ask my hubby.
So, today I thought I'd share my favorite chocolate chip cookie recipe with you.  It's not fancy. It's not the "best recipe" featured in any famous newspapers. Instead, it's the recipe I got off of a bag of Hershey's chocolate chips about 10+ years ago.  You see, before I discovered my love of cooking and baking, one of the few things that I could actually make was chocolate chip cookies. I used to make them for my hubby (he was my boyfriend then), and they won his heart.  So, I figure, why mess with a good thing, right?
I have developed a few tricks and adapted the recipe (ever so slightly) over the years, but they are still the same chocolate chip cookies that my friends and family regularly ask for.  I won't claim they are the best (those are fighting words… and I'm not in the mood to fight!), but they are the cookies that work for me.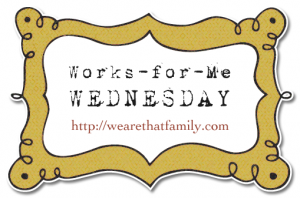 A Few Tips…
Before we get to the recipe, let me share a few quick tips with you…
Let the dough sit in the fridge overnight… It seems like torture, but it realy helps.  The flavor and texture of the cookies will be better.  I'm not entirely sure why, but it works. Just take my word for it.
Go big! Most people I know prefer a nice big (and chewy) chocolate chip cookie… Like the ones that you see in the bakery case at a coffee shop. Use a 1/4 cup cookie scoop to portion out the dough for the perfect cookie.
The chocolate matters. I'm not saying you have to buy a $10 bar of chocolate for your cookies… But, use a chocolate that you like. The chocolate chips are the star of the cookie. If you're a milk chocolate fan, go with milk chocolate chips.  If you like a richer, darker flavor, go for a nice dark chocolate chip.
Don't over bake the cookies (please!)… Even the best cookie recipe will yield hard, crunchy cookies if you leave them in the oven for too long.  You want the cookies to be golden (especially around the edges) and just barely set in the middle. They will get darker and firm up a bit after they come out of the oven.
Make a double batch. You don't have to bake all of the cookies… But, it's just as easy to whip up a double batch of dough.  Scoop out extra cookies and freeze them on a baking sheet.  Once they are frozen, transfer them to zipper freezer bags for a last minute sweet treat.
My Chocolate Chip Cookie Recipe
Alright… Now that we've covered the basics, let's get to the recipe, shall we?
Chocolate Chip Cookies
Makes about 2 dozen large cookies
(Adapted from Hershey's)
1 cup (2 sticks) unsalted butter, softened
3/4 cup lightly packed dark brown sugar
3/4 cup granulated sugar
2 eggs
1 teaspoon pure vanilla extract
1 1/4 cups all purpose flour
1 cup bread flour
1 teaspoon baking soda
1/2 teaspoon Kosher salt
2 (heaping) cups chocolate chips
Combine the butter, brown sugar, and granulated sugar in a large mixing bowl.  Beat on medium speed until the mixture is light and fluffy.  Gradually add the eggs one at a time, beating for about a minute after each addition to make sure the egg is completely incorporated.  Add in the vanilla extract and beat to incorporate.
Meanwhile, whisk the all purpose flour, bread flour baking soda, and salt together in a medium bowl.  Set the mixer to the lowest speed and gradually add the flour mixture to the creamed mixture.  Mix just until the flour is incorporated.  Stir in the chocolate chips by hand.
Press plastic wrap firmly down over the dough and refrigerate overnight.
When you're ready to bake the cookies, preheat the oven to 375°F. Line your baking sheet(s) with parchment paper or a silicone baking mat and set aside.
Scoop 1/4 cups of dough out onto the baking sheets, spacing the cookies a few inches apart so that they have plenty of room to spread.  Bake the cookies for 14 – 16 minutes, until the edges are golden and the centers are just set.  Cool the cookies on the baking sheet for about 10 minutes, then transfer to a wire rack to cool completely.