This month's Kitchen Bootcamp challenge was to make a dish using the humble potato. While it may not be difficult to come up with something to make that utilizes potatoes, I hoped that the challenge would inspire some creativity.  And, it did! I was thrilled with the recipes that everyone came up with, and I look forward to trying all of them myself!
I decided to make some Easter-appropriate twice baked potatoes using two of my favorite ingredients – Gruyère cheese and dijon mustard. Forget the scalloped potatoes for the traditional ham dinner, this year we'll be having these Dijon Gruyère Twice Baked Potatoes.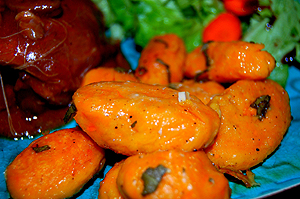 Gnocchi and sweet potatoes are two of my favorite foods… And, when they are combined and tossed in butter and sage, I find them absolutely irresistible.  I can't wait to give these Sweet Potato Gnocchi from Nelly's Pantry a try!
I've always loved the way potatoes can improve the texture of a loaf of bread.  I grew up eating hamburgers and hot dogs on soft potato rolls, and I've been hooked ever since.  I'll be adding this Potato Bread from A Little Bit of Everything to my baking list in the next week or two!
Roasted potatoes are a staple at my house… Especially during the colder months of the year.  Roasted potatoes can be simple to make, yet loaded with great flavor. With bacon, garlic, and parmigiano-reggiano, that's exactly how I would describe these Oven Roasted Potatoes from My Adventures in the Country. Have you added them to your dinner menu yet?
I have a thing for vintage cookbooks and vintage recipes… I can't quite explain it. So, I'm dying to try these "Baroness" Potatoes from eat. live. travel. write. They are adapted from the ever popular Duchess potatoes. I think these are the perfect finger food for adults and kids alike… And, I know my hubby and I will be enjoying some soon!