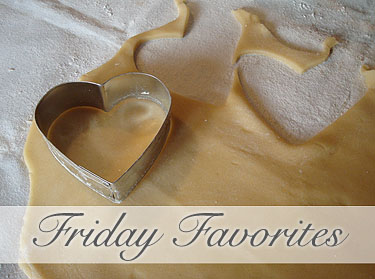 Friday is here again… So, it's time for another guest edition of my Friday Favorites!
Today, please help me welcome Brandy from Nutmeg Nanny. She's been one of my favorite bloggers for quite a while, and she's got some really great recipes! Today you have the great opportunity to get inside her head as she shares a few of her favorite recipes, both from her blog and from other blogs that she loves to read. I've got quite a few new recipes to try!
Thanks for dropping by, Brandy!
Tell me, what are your (current) favorite ingredients to play around with in the kitchen?
Currently I'm loving:
Vanilla paste: This stuff is a dream come true! If you don't own a bottle I would suggest running out and buying a bottle. You will love it!
Bourbon barrel aged maple syrup: This stuff is amazing! I have never had syrup this delicious before. I got mine from a family owned maple farm up in Vermont called Wood's Vermont Syrup Company
Virgin unrefined coconut oil: I have been experimenting with coconut oil since the summer and have the love affair is still strong. It's amazing stuff!
What's one item in your kitchen that you just can't live without?
My oven…how else would I bake up delicious sweet treats? :)
If you could pick 3 of the recipes that you have developed that best describe you, what would they be?
Cheesecake Stuffed Strawberries: I like recipes that don't take all day in the kitchen to complete. This is definitely one of those. In only a few minutes you can be in strawberry cheesecake heaven…oh yeah!
Sweet & Salty Roasted Pumpkin Seeds: Growing up we used to roast pumpkin seeds all the time. This recipe takes that memory to a whole new level. It's sweet, salty and crunchy!
Honey Spiced Glazed Chicken: I'm always looking for quick dinners because of my crazy work schedule. If I happen to get home in time to make dinner I want something quick. This meal is a staple in our house and is done in no time.
What recipes from other bloggers have caught your eye this week?
What's the coolest thing you saw on Pinterest this week?
I saw a really awesome DIY faux calligraphy tutorial. I'm in the middle of wedding planning and little tips like this always make me excited.