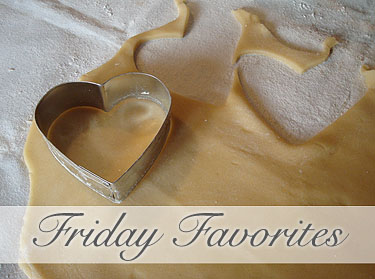 Today I am thrilled to have Sylvie from Gourmande in the Kitchen here to host this week's edition of the Friday Favorites!
If you don't know Sylvie already, you should definitely get to know her.  She's got some really fabulous recipes on her site, and she also happens to be one of my favorite photographers. Seriously, her stuff is amazing. I think you're really going to love seeing the great recipes that she's chosen as her favorites this week!
Thanks so much for dropping by, Sylvie!
Tell me, what are your (current) favorite ingredients to play around with in the kitchen?
Lately I've been enamored with mixed vegetable soups. I'll put all sorts of vegetables into the blender and turn them into soup by adding vegetable stock or water. A soup made with leftover roasted butternut squash seasoned with a little olive oil, earthy cumin, salt and pepper is fantastic!
I'm also in love with making my own nut butters. Have you ever tried macadamia nut butter? Heavenly!
And then there's coconut which I've been incorporating into my cooking and baking in all its forms. Shredded coconut, coconut milk and coconut oil have all made appearances in my kitchen lately.
What's one item in your kitchen that you just can't live without?
My most loved kitchen gadget lately is my high-speed blender; it makes the creamiest soups and smoothies. I use it almost every day and can't imagine being without it.
If you could pick 3 of the recipes that you have developed that best describe you, what would they be?
I think these three recipes best describe the type of food I make and am most drawn to generally:
What recipes from other bloggers have caught your eye this week?
Shaina from Food for My Family made the cutest mini berry pies on a stick and her adorable daughter makes an appearance in the post too.
Lisa from With Style and Grace shared a recipe for a fresh carrot apple and ginger juice that is a fabulous combination of flavors.
This Broccoli and Pea soup that Harini from Tongue Ticklers made was calling my name as well! So fresh and easy.
What's the coolest thing you saw on Pinterest this week?