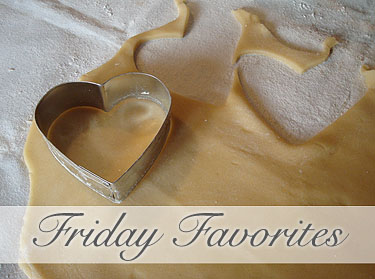 This week, my Friday Favorites guest host is Amber from Bluebonnets & Brownies!
Amber is a great friend of mine, and (of course!) a wonderful blogger. She grew up in the great state of Texas, so she is my authority on all things Tex-Mex.  On top of that, she is also a fabulous baker, and she comes up with some of the most creative recipes I see. In fact, she's mentioned a few of them below!  In addition to some of the best recipes from her site, she's also featured a few new favorites from other sites, as well.  These are recipes you won't want to miss!
Thanks so much, Amber, for hosting this week's Friday Favorites!
Tell me, what are your (current) favorite ingredients to play around with in the kitchen?
This is going to sound really lame, but I kinda feel like all the important recipes in my life right now start with four things: flour, sugar, butter, and eggs. My sister is flabbergasted at how quickly I go through all 4. Since I arrived in Texas in December, I've burned through about 8 dozen eggs, 15 pounds of flour, 5 pounds of sugar, and more pounds of butter than I really want to contemplate, and for 4 weeks out of that time, I couldn't set foot in the kitchen.
What's one item in your kitchen that you just can't live without?
Easy. My electric tea kettle. I'd never had one until I moved to England, and I don't know how I lived the first 25 years of my life without one. It's also my most missed appliance. I didn't bring it with me to Texas, and I have regretted it immensely.
If you could pick 3 of the recipes that you have developed that best describe you, what would they be?
The first of these would be my Movie Theatre Cookies. I looooove putting crazy ingredients in unsuspecting recipes. Who knew kettle popcorn could be so crazy good in a cookie?
The second would be the Mini Lemon Meringue Cheesecakes I made for my mom and grandma last Mother's day. It turned out to be my nan's last Mother's Day, and I'm glad I could come up with a recipe that really made her smile. She adored lemon.
The third would be my "copycat" recipe for Rudy's Creamed Corn. It's not what you're thinking, I promise. Rudy's is a barbecue restaurant that started in the tiny town of Leon Springs, TX, just southwest of San Antonio. It's grown into a chain, but that first restaurant – attached to a gas station – is still going strong. They are absolutely famous for their creamed corn – fresh kernel corn in a milky, peppery gravy.
It's my most searched for recipe, and the most popular post on my site. If you read the comments you'll find that the "real" recipe (at least according to former employees that have commented) doesn't have any cream cheese – but this recipe tastes almost identical, and seems to be an easier way to get to the end result.
Why is this recipe so me? I am all about everything Rudy's encapsulates – small town business makes big, down home food that everyone loves, and keeping humble – having a gas station attached to your restaurant is a sure way to keep you humble.
What recipes from other bloggers have caught your eye this week?
What's the coolest thing you saw on Pinterest this week?
Just tonight, someone pinned this s'mores maker for the grill. I am enthralled. I want it bad.
P.S.  If you're interested in being a Friday Favorites guest host, shoot me an email!