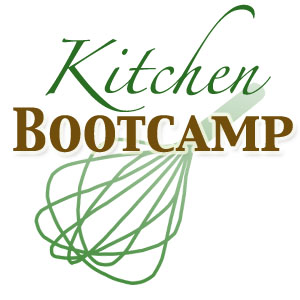 It feels good to be back in the swing of things, doesn't it? I enjoyed last month's Kitchen Bootcamp challenge, and I'm ready for the next one!
For the March challenge, I thought we'd tackle one of the few remaining chapters of The Professional Chef that we haven't covered yet – Cooking Potatoes (Chapter 26).  Potatoes may seem like a very simple ingredient, but they lend themselves well to a lot of different cooking techniques – roasting, sauteeing, baking, frying, steaming, boiling… You get the picture!
As I have said in previous months, you are free to use any source that you choose for the challenge.  I love my copy of The Professional Chef and I will be using that as a guide (along with other cookbooks that I own).  But, I encourage you to use whatever you have on hand.  The only rule is that you make a dish that features potatoes.  Simple, right?
Need more inspiration? Be sure to check out the Facebook group created specifically for the Kitchen Bootcamp challenges!
To be included in the roundup on Thursday, March 29th, please submit your blog posts to me by Wednesday, March 28th.  Be sure to include a photo in your submission if you would like one included in the roundup… I won't steal photos directly from your site!
Please Note – The links to The Professional Chef provided in this post are Amazon affiliate links.