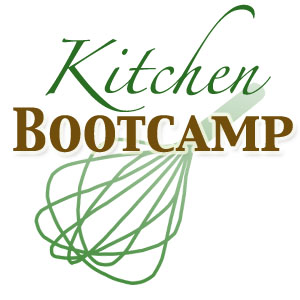 After another great Kitchen Bootcamp challenge in March, I thought I'd keep things rolling and announce the new challenge for April right away!
Warmer weather is on its way, so I thought we'd tackle the grilling chapter (Chapter 20) in The Professional Chef this month.  The chapter actually covers grilling, broiling, roasting, and baking meats.  So, there should be something for everyone… Even if the weather turns cold, or you aren't really into grilling!
The chapter covers all of the proper techniques for grilling, broiling, roasting, or baking meat, along with carving tips and a bunch of great recipes. Of course, as with all of the challenges, you don't have to strictly follow the chapter in The Professional Chef… Feel free to use the resources you have on hand, along with your own creativity!  And, if you aren't a meat eater, don't fret. Veggie dishes will be accepted for this challenge, as well!
I'll be posting the roundup on Monday, April 30th… So, please submit your blog posts by Sunday, April 29th in order to have them included in the post.  And, of course, I'd like to remind you that if you would like to have a photo included in the post, you must submit it along with your blog post.  I won't take images directly from your site or blog post!
New Book for May!
While I still have your attention, I also wanted to announce that the Kitchen Bootcamp challenges will start referencing a new book starting in May – The New Best Recipe (from America's Test Kitchen and the editors of Cook's Illustrated).  We have covered most of the chapters in The Professional Chef, so I thought it would be nice to do something different.
Of course, you are not obligated to purchase a copy of the book in order to participate… But, I wanted to give everyone a heads up in case you are interested in purchasing a copy (and, it's definitely a book I recommend!) before the next challenge!
Please Note – The links to The Profesional Chef and The New Best Recipe provided in this post are Amazon affiliate links.