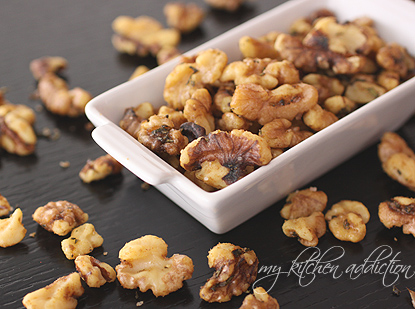 Today's recipe is one of my new favorites.  It's not complicated, and it's not that fancy. Instead, it's one that can be made in just a few minutes… And, it makes for great snacking throughout the week.
It all started before the holidays when I asked Amber if she had any good recipes for roasted nuts.  I wanted to make something different. She recommended these Union Square Cafe Bar Nuts from Three Many Cooks. And, it was definitely the right recommendation. I immediately fell in love with them. I made a few batches of them to give away as gifts for Christmas, and I've also been making them for myself ever since.
The only thing about the mixed nuts was that I constantly found myself pulling all of the walnuts out of the mix. I really love the texture and flavor of the roasted walnuts, so I've started making my own version with just walnuts. I've also started using extra virgin olive oil instead of butter in the recipe.  I like the flavor of the olive oil and it adds some good healthy fat to the recipe for a great, healthy snack.
Rosemary Roasted Walnuts
Makes 3 cups
(Adapted from Three Many Cooks)
2 tablespoons extra virgin olive oil
2 tablespoons minced fresh rosemary
2 teaspoons brown sugar
1 teaspoon Kosher salt
1/2 teaspoon cayenne pepper
3 cups walnuts
Preheat the oven to 350°F.
Combine the olive oil, rosemary, brown sugar, salt, and cayenne in a small mixing bowl.  Whisk to combine well.
Place the walnuts in a large mixing bowl, and pour the olive oil and spice mixture over the walnuts. Toss together until the walnuts are evenly coated.
Spread the walnuts out on a baking sheet in a single layer, and bake for 10 minutes. Cool the nuts completely on the baking sheet before transferring to an airtight container.