After a bit of a hiatus, I'm pleased to be back with this month's Kitchen Bootcamp roundup!
To get everyone back in the swing of things, I decided to choose eggs as this month's challenge.  I just love the way eggs are a blank canvas, and I knew the challenge would inspire some creativity in the kitchen.  And, I was right! There were some really fantastic recipes submitted this month… So, let's get right to it!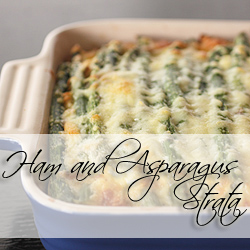 For this month's challenge, I stuck to a simple dish… I made this elegant Ham and Asparagus Strata that works well for breakfast, lunch, or dinner!
I have seen many versions of this childhood favorite dish, but this one is certainly the most elegant, and I think it is the most tasty, too! You won't want to miss these Green Eggs and Ham from Mangoes and Chutney!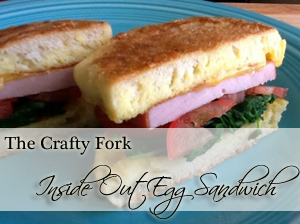 I have seen a lot of commercials for egg sandwiches on TV lately… But, you won't see me going through the drive through any time soon. I will, however, be making these Inside Out Egg Sandwiches from The Crafty Fork!
This recipe for Oefs Cocotte (Baked Eggs) from eat. live. travel. write. is another recipe that I'm looking forward to trying.  It's a simple recipe to make, but I'm pretty sure it will quickly become a new favorite at my house!
I make quiche quite often at my house… Though, I don't know I've ever made a mushroom quiche.  I think this Mushroom and Cheddar Quiche from My Adventures In The Country will be making an appearance on my menu very soon.