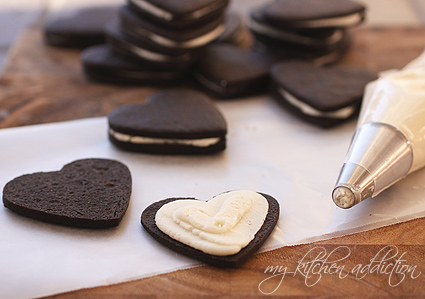 Lately, my husband has been getting me into a bit of trouble.
You see, he's my taste tester. He's not afraid to tell me when something I make is awful (it has happened before… believe me!), so I know he'll give me an honest opinion.  So, when I'm baking and working on a new recipe, I often take him a plate of samples.
A few times lately (including yesterday when I was working on this particular recipe), he has raved on Facebook about what I made for him. I'm thrilled when my recipes turn out well, and I'm always glad that he's happy with his afternoon snack.  But, I wind up with a whole group of jealous friends, neighbors, and relatives who want to know why I didn't make homemade oreos (or cinnamon rolls, brownies, muffins… ) for them. It's a bit of a dilemma!
In this case, the homemade oreos that my hubby was taunting his friends with on Facebook were already spoken for… Most of the cookies were destined for the cafe at our church. But, of course, I had set aside a few extras for my hubby. Then it hit me… I had a solution to my problem! I just reminded him that if anyone wanted samples of the treats, they would have to come out of his snacking stash. My guess is he won't be sharing my baking secrets on Facebook anymore!
These homemade oreos are easy to make. They are based on my recipe for vanilla bean sugar cookies.  By adding dutch process cocoa, they have the dark chocolatey flavor of oreos. Paired with a quick vanilla buttercream filling, I happen to think they are better than the originals. Of course, if you're friends with my hubby on Facebook, you already knew that.
Homemade Oreos
(Makes approximately 3 dozen)
For the cookies:
1 cup (2 sticks) unsalted butter, softened
1 cup granulated sugar
1 egg
1 teaspoon pure vanilla extract
2 cups all purpose flour
3/4 cup dutch process cocoa powder
1 1/2 teaspoons baking powder
1 teaspoon salt
For the filling:
1/2 cup (1 stick) unsalted butter, softened
2 tablespoons half and half
1 teaspoon pure vanilla extract
Pinch of salt
3 – 3 1/2 cups powdered sugar, whisked to remove any lumps
Begin by preparing the cookies.  Combine the butter and sugar in a large mixing bowl, and beat on medium speed until light and fluffy.  Add the egg and vanilla, and beat until well incorporated.
Meanwhile, whisk together the flour, cocoa, baking powder, and salt. Gradually add the dry mixture to the creamed mixture, beating on the lowest speed.  Continue to mix on the lowest setting until the dry ingredients are just incorporated.
Divide the dough in half, and shape into two discs.  Wrap in plastic wrap and refrigerate for 1 hour.
When the dough is chilled, preheat the oven to 350°F.  Line a baking sheet with parchment paper or a baking mat.  Set aside.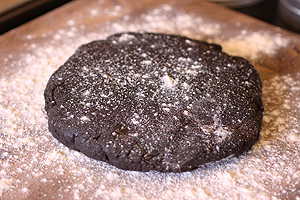 Taking only one portion of dough out of the refrigerator at a time, turn the dough out onto a lightly floured surface.  Roll the dough to 1/8 – 1/4-inch thickness.  Use a cookie cutter (approximately 2 inches in diameter) to cut out cookies and transfer them to the prepared baking sheet.
Bake the cookies for 12 minutes, then transfer to a wire rack to cool completely.
Once the cookies are cooled, prepare the filling.  Combine the softened butter, half and half, vanilla, and salt and beat until combined.  The mixture may be a bit lumpy, but will come together.  Add the powdered sugar gradually, approximately 1/2 cup at a time, until the filling comes together.  It will be slightly stiffer than a cupcake frosting.
Transfer the filling to a piping bag fitted with a large round tip.  Pipe the filling onto half of the cookies, and top with the remaining cookies to form cookie sandwiches.