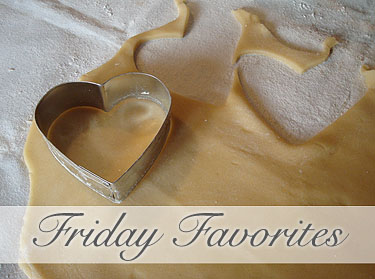 Today is the 125th edition of my Friday Favorites… That's a lot of Fridays, and a lot of favorites!
While I do enjoy picking my favorite blog posts each week, I thought maybe it would be fun to mix things up for a little while.  So, instead of just sharing my favorite blog posts, I am going to pass the reins to a few of my favorite bloggers and let them share a few of their favorite things with you!
I am thrilled to have Tracy from Sugarcrafter here to kick things off.  She is a great friend and an awesome blogger, and I know you will love her site.  She's highlighted a few of her favorite recipes from her site, along with some really great recipes from other blogs this week.  She's got great taste! Plus, she's been kind enough to answer my annoying interview questions.
Thanks so much, Tracy!
Tell me, what are your (current) favorite ingredients to play around with in the kitchen?
Being still relatively new to the Nutella scene, it's an ingredient I continue to enjoy experimenting with. I'm also loving anything lemon right now – it's just one of those ingredients that screams spring to me, and I am definitely ready for spring to get here!
What's one item in your kitchen that you just can't live without?
A rubber spatula. I use them for everything!
If you could pick 3 of the recipes that you have developed that best describe you, what would they be?
Strawberry & Wine Jam: I just love to can, an experiment that developed into a full-blown hobby after I participated in the Tigress Can Jam about a year and a half ago. This is my current favorite and best-loved type of jam that I make.
Pierogi: As a Polish gal, I sure do love my Polish food. I also love the tradition associated with this recipe, as it comes from my husband's grandmother who is no longer with us, and I think of her every time I make them.
Cast Iron Skillet Chocolate Chip Cookie: I love to take classic favorites like the chocolate chip cookie and give them a little twist. This giant skillet cookie is no exception!
What recipes from other bloggers have caught your eye this week?
What's the coolest thing you saw on Pinterest this week?
A pin from MarthaStewart.com explaining how to dye eggs naturally. I always use the little plastic wrappers (or Egg Arounds, as described here) that shrink onto the eggs when dropped in boiling water. This year, I think it will be lots of fun to dye them using ingredients found in my kitchen!