When I saw this Cardamom Coffee Cake on the Red Star Yeast website, I was excited for two reasons.  First, I loved that the recipe used yeast to leaven the cake, but required no kneading. I certainly don't mind kneading dough, but I was eager to try a no knead recipe. And the second reason? I adore cardamom.
Cardamom is a spice that I fell in love with a few years ago… It has a lovely exotic floral and slightly fruity aroma that pairs really well with warm spices like cinnamon and ginger.  It is great for baking, and I love to add it to almost any recipe that contains cinnamon.  I love the way it adds a whole new depth to the flavor of the dish.
I will be honest… I wasn't entirely sure what to expect when I made this recipe. I haven't made many no knead recipes in the past, so I wasn't sure what the texture of the cake would be like.  But, I was pleasantly surprised to discover that the cake had a nice delicate crumb and was very light in texture.
I also loved the flavor of the cake.  It's not super sweet like some coffee cakes can be…  You can tell that just by looking at the amount of sugar in the recipe. I found the cake to be just sweet enough, with a lovely taste and aroma from the cardamom and other spices. Don't love cardamom? I think you could leave it out and just up the cinnamon to 1 teaspoon instead. You'd still have a lovely cake with great flavor.
If you've never experimented with baking with yeast, I'd highly recommend giving this recipe a try. It's a great place to start, and it comes together quickly in your stand mixer. You really can't go wrong. Plus, you will certainly enjoy a slice or two of cake for breakfast or an afternoon snack.  It's perfect with a cup of coffee!
Cardamom Coffee Cake
Makes one large Bundt cake
(Recipe from Red Star Yeast, used with permission)
1/2 cup water
1/2 cup milk
1/2 cup unsalted butter, cut into chunks
4 cups bread flour, divided
3/4 cup sugar
4 1/2 teaspoons (2 packets) active dry yeast
1 teaspoon salt
2 teaspoons ground cardamom
1/2 teaspoon ground cinnamon
1/4 teaspoon ground ginger
1/4 teaspoon ground cloves
4 eggs, at room temperature
Powdered sugar
Combine the water, milk, and butter in a microwaveable bowl.  Microwave until the mixture reaches 120º – 130ºF. It's OK if the butter does not melt.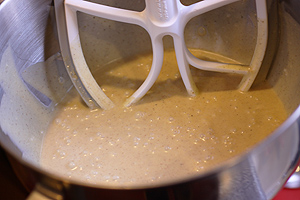 Meanwhile, in the bowl of your stand mixer, combine 1 1/2 cups flour, sugar, yeast, salt, and spices (cardamom, cinnamon, ginger, and cloves). Beat for just a few seconds to mix the dry ingredients.  Add the warm liquids and the eggs.  Blend at low speed until just moistened.  Then, increase the mixer to medium speed and beat for an additional 3 minutes.
Stir in the remaining flour by hand.  You should have a stiff batter.
Spoon the batter into a well greased 12-cup Bundt pan.  Cover, and let rise in a warm place until the batter is light and has doubled in size (approximately 1 1/2 hours).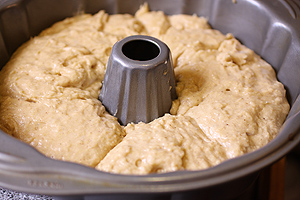 At the end of the rising time, preheat the oven to 375ºF.  Bake the cake for 30 – 35 minutes, until the top is golden brown.
Let the cake cool for a few minutes in the pan, then invert onto a wire rack to cool completely. Dust with powdered sugar before serving.
My Kitchen Addiction Disclosure – This post was sponsored by Red Star Yeast.  Though I have been compensated to write this post, all opinions expressed are my own.