As I've been catching up on my blog reading over the past week or so, I've noticed that a lot of people are interested in learning to bake bread this year. I love it! I plan to continue baking homemade bread this year, and I'm thrilled to see that so many others are excited about it, as well.
This year, I'm really excited to experiment more with sourdough.  I've played around with it a bit in the past, and it's a favorite of mine. Sourdough bread is really quite simple to make, and you can't beat the amazing flavor that comes from the sourdough starter.  While many people seem to be a bit afraid of it, I would argue that sourdough bread can be one of the easiest breads to make, and I think it's a great place to start!
So, today I'm teaming up with Red Star Yeast to bring you a great recipe for sourdough bread.  It's a pretty basic recipe, and I'd really encourage you to give it a try.  Baking sourdough bread does require a sourdough starter, but you can easily make your own sourdough starter at home… You'll just have to wait a few days before you give this recipe a try.  But, I promise you that it will be worth the effort.
I've made this sourdough bread myself a few times, and I have photos to help you through each step of the process. And, if you still have questions or need some encouragement,  I'm here to help!  You can certainly leave a question in the comments here, and I will get back to you as soon as I can.
Twitter is also a great place to get help as you're baking, and you can always chat with me (@JenSchall) or the great folks at Red Star Yeast (@RedStarYeast), as well! We're happy to answer your questions. Plus, there's nothing wrong with posting a photo of your finished loaf and bragging a bit amongst friends… We'd love to know how it turns out!
So, whether you're a bread baking pro or you've just decided to start baking homemade bread this year, I'd really encourage you join me in starting the year off with some homemade sourdough bread. This recipe uses standard bread flour, and yields a nice, crusty loaf of bread with a light crumb.  As you get more comfortable with the sourdough bread, you can start to experiment with new types of flour for multigrain and whole wheat versions, as well!
Oh, and did I mention that this bread makes a mean grilled cheese?  I've got a simple recipe for my new favorite grilled cheese coming later this week, so stay tuned!
San Francisco Sourdough Bread
Makes 1 large loaf
(Recipe from Red Star Yeast, used with permission)
3 cups bread flour, divided
2 teaspoons salt
1 tablespoon sugar
2 1/4 teaspoons (1 packet) active dry yeast
3/4 cup + 1 tablespoon warm water (120º-130ºF)
1 cup sourdough starter
In the mixing bowl of your stand mixer, whisk together 1 cup of bread flour, salt, sugar, and yeast.  Add the warm water and 1 cup of sourdough starter. Fit the mixer with the paddle/beater blade attachment and beat for about 4 minutes on medium speed.
Switch over to the dough hook, and gradually add the remaining flour and knead with the dough hook for about 5 – 7 minutes.  The dough should be smooth and elastic.  If necessary, add additional bread flour to reach the right texture.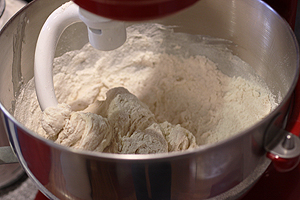 Transfer the dough to a lightly oiled bowl, turning the dough over in the bowl to lightly grease all sides of the dough.  Cover with plastic wrap or a damp towel. Let the dough rise until the imprint of two fingers pressed into the dough remains (about 1 1/2 – 2 hours).
Prepare a baking sheet by lightly greasing it (or lining it with a silicon liner) and sprinkling it with cornmeal. Set aside.
Turn the dough out onto a lightly floured surface, and punch it down to remove any air bubbles.  Using your hands, pat the dough into a rectangle approximately 12 inches by 5 inches.  Starting with the shorter side, roll the dough tightly.  Pinch the edges seal so that you have a long loaf. Transfer the loaf to the prepared baking sheet. Cover and let rise until an indentation remains on the side after touching the dough (about an additional 1 – 1 1/2 hours).
Preheat the oven to 400º F.
Use a sharp knife to make 2 or 3 diagonal slashes across the top of the loaf.  Mist the dough with cold water before baking for 30 – 35 minutes. Remove the loaf from the cookie sheet and transfer to a wire rack to cool completely before slicing.
My Kitchen Addiction Disclosure – This post was sponsored by Red Star Yeast.  Though I have been compensated to write this post, all opinions expressed are my own.