January is a time for new beginnings, right?
While I could probably stand to eat fewer cookies and work out more, this post isn't about resolutions to lose weight and eat great. Instead, I'm talking about new beginnings for bread baking this year!
In all of the craziness at my place over the summer, I seriously neglected my sourdough starter. It got kind of fuzzy and turned all sorts of fun colors. Interesting for a science experiment, but not so good for baking bread!
Since I have great plans of doing lots of bread baking this year (that's a resolution I can actually keep!), I decided it was about time that I remedy the sourdough situation.
In the spirit of new beginnings, I decided to start a new batch of sourdough starter… Last time around, I ordered my starter from King Arthur Flour, but this time I decided to try making a batch of my own from some active dry yeast.  It was fast and easy, and, considering my history for killing off sourdough starter, it saved me some money, too!
I'll be posting a great recipe for sourdough bread next week, so consider this recipe a bit of a prerequisite.  If you get started now (and, it's so easy that there's no reason not to!), you'll be ready to bake right along with me!
It works for me, and I'm hoping it will work for you too!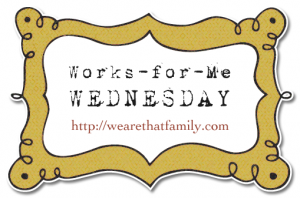 Homemade Sourdough Starter
(Adapted from Red Star Yeast)
2 cups lukewarm water
2 1/4 teaspoons (1 packet) active dry yeast
3 1/2 cups bread flour
1 tablespoon granulated sugar
In a non-reactive bowl (i.e. avoid metal!), combine the lukewarm water and the packet of yeast.  Stir to dissolve and let the mixture sit for a few minutes.
Add the bread flour and sugar, and stir to combine all of the ingredients. The mixture may be a bit lumpy and sticky, but that's fine!
Cover the bowl loosely with plastic wrap. Don't cover tightly, since some fresh air is necessary for the whole sourdough process. Leave the mixture at room temperature for about 5 days, stirring once or twice a day.  The mixture will rise and bubble and may develop a layer of liquid on top.  That's all good!
At this point, you are ready to use your sourdough starter. Or, it can be kept in the refrigerator.  Simply stir in a teaspoon of sugar each week to keep the starter going.
When you are going to bake with your starter, be sure to stir it down before measuring, and let the measured starter come to room temperature before baking. I usually like to pull mine out of the fridge the night before!
To replenish your starter, simply stir in 1 cup of flour and 1/2 cup water before returning it to the fridge!
My Kitchen Addiction Disclosure – While I do have a standing relationship with Red Star Yeast, this blog post was not sponsored by them. I am just posting about a recipe I love. As always, all opinions expressed are my own.