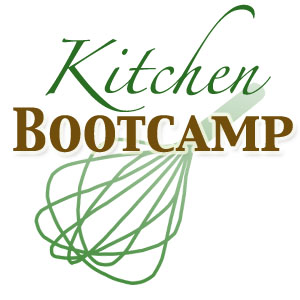 I've taken a bit of a break from the Kitchen Bootcamp challenges over the holidays (and a few weeks after the holidays, too!).  I'm pretty sure I wasn't the only one who had a busy schedule and not too much time to worry about sharpening my kitchen skills and trying new things!
But, that's all about to change. It's time for a new Kitchen Bootcamp challenge!
Even while I've been taking a break from the challenges here on the site, the Facebook group has been going strong, and there's been some discussion about the new challenge.  I asked for suggestions, and the one that jumped out at me was the chapter on cooking eggs (Chapter 29 in The Professional Chef)… Thanks, Chia!
Eggs may seem like a simple ingredient… And, they certainly can be! But, I challenge you to learn something new this month! I've never poached an egg (nor do I typically eat poached eggs), so that's something I'm determined to conquer for this challenge.  For you, it could be something as simple as mastering the perfect hard boiled egg or fluffy scrambled eggs. Of course, you could tackle a savory souffle, too. Really, any egg recipes are fine (though, let's stay away from cakes and cookies and other baking that just uses an egg or two).  And, as always, you can use whatever sources you have on hand. If you have a copy of The Professional Chef, that's a great one… And, that's what I'll be using!
Since I'm announcing this challenge a bit late, and since February is a short month, I'm going to make it a combined January/February challenge.  I'll be posting the roundup of all of your recipes on Tuesday, February 28th, so be sure to submit your blog post by Monday, February 27th.  Also, please be sure to upload a photo when you submit your post if you'd like me to include one in the post… I won't take photos from your site directly!
One More Thing…
While I have your attention, I'd love your feedback on one more thing… We've covered most of the chapters in The Professional Chef.  So, thinking ahead to upcoming months.  Would you like to revisit prior chapters, or move on to a new book? And, do you have a book in mind? Feel free to leave your thoughts, ideas, and suggestions in the comments!
Please Note – The links to The Professional Chef provided in this post are Amazon affiliate links.