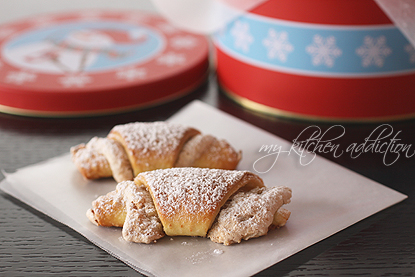 This week, I'm focusing on recipes to help you along with your holiday baking… Baking really is the best part of the holidays, isn't it?
Yesterday I shared a favorite new cookie recipe with you.  Today, I thought we'd talk about another sweet treat as a part of my baking series with Red Star Yeast… Nut-Filled Butterhorns! It was a new recipe for me, though I've seen them on trays of sweets around the holidays.  They are slightly sweet (but, not too sweet!) rolls filled with nuts and meringue. They're perfect as a sweet breakfast treat or as an afternoon snack with a cup of coffee.
I enjoyed giving these sweet rolls a try. I did have to fight just a bit with the meringue filling. Meringue and I just don't seem to get along! I had the filling spilling out the sides of the rolls a bit as I shaped them… And, some more spilled out as they were baking.  So, in the end, they weren't quite as pretty as I had hoped.  But, they tasted fabulous. And, once they were dusted with a bit of powdered sugar, no one seemed to care about meringue.  Next time, though, I may try filling the rolls with a cinnamon, butter, and nut filling (more like a cinnamon roll filling) to see if I have better luck with that. And, because I just happen to love those flavors!
Red Star Yeast Giveaway
Over the past few months, I've been working with Red Star Yeast to highlight some of the great recipes on their website.  And, to help you celebrate the holidays (and get you on your way to baking up some of their recipes yourself!), they have agreed to give away a set of baking essentials.
One lucky reader will receive a package including the following items from Carol's Club…
Apron
Rolling Pin
Pizza Cutter
Yeast (of course!)
They are the perfect items for baking these tasty nut-filled butterhorns, and are great for all sorts of other baking projects as well!
Congratulations to Hayley who was randomly selected as the winner of the baking gift package!
Please Note – This giveaway is open to US and Canada residents only.
Nut-Filled Butterhorns
Makes 64 small rolls
(Recipe from Red Star Yeast, used with permission)
For the dough:
4 cups bread flour
4 1/2 teaspoons active dry yeast
(Note – instant yeast is not recommended for this recipe)
1 tablespoon granulated sugar
1 teaspoon salt
1/4 cup water
1/2 cup sour cream
4 egg yolks
1 cup (2 sticks) unsalted butter, at room temperature
For the filling:
4 egg whites
1 cup granulated sugar
1 teaspoon pure vanilla extract
1 cup walnuts, finely chopped
To prepare the dough, In mixing bowl, combine 1 1/2 cups of bread flour, yeast, sugar, and salt in a large mixing bowl.
In a separate microwaveable bowl, combine the sour cream, water, and butter. Heat to approximately 120°-130°F. The butter does not need to melt. Add to the flour mixture; beat on low speed.Add the egg yolks, and beat for an additional 2-3 minutes on medium speed.
By hand, stir in enough of the remaining flour to make a soft dough.  Cover the mixing bowl and refrigerate.
Chill the dough for at least 3, but no more than 24 hours. This is a rich dough and will rise very little. Since this recipe makes 64 horns, half of dough could be made after 4 hours; the rest can be frozen for later. If you are only making 1/2 of recipe, prepare only half of the filling.
When ready to bake the rolls, preheat the oven to 375°F.
To prepare the filling, beat the egg whites to soft peak stage. Gradually beat in the sugar and vanilla, and continue beating until stiff peaks form. Gently fold in finely chopped walnuts.
To shape the rolls, divide dough into 8 parts. Roll out one at a time on work surface sprinkled with confectioners' sugar. (Refrigerate the rest.)
Shape each portion of dough into a ball, then roll from center in all directions to an 8-inch circle. Add more confectioners' sugar to board, as needed, for easy rolling. Dough can be patched by pressing with fingers and rolling to smooth.
Spread a thin layer of the filling on top of the circle.  Cut the circle into 8 wedges. Roll up each wedge, beginning at the rounded edge.
Place on an ungreased pan, and bake immediately for 15 to 20 minutes. Remove from the pan, and cool on a baking rack.
If desired, the rolls can be dusted with powdered sugar before serving. Store in an airtight container.
My Kitchen Addiction Disclosure – This post was sponsored by Red Star Yeast.  The giveaway items have been provided at no cost to me and will be shipped from Red Star Yeast. Though I have been compensated to write this post, all opinions expressed are my own.