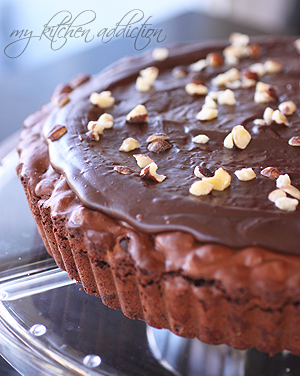 Whether you love it or hate it, entertaining is a big part of the holidays. I happen to be one of those people who really enjoys entertaining friends and family.  If I had the time (and energy), I'd prepare a 4 course dinner for friends and family every night of the week.
I am also known for going a bit overboard and biting off more than I can chew when it comes to entertaining. I plan an elaborate menu with lots of hands-on dishes and find myself running around the kitchen frantically as my guests are arriving.  I am gradually learning to pull back a bit and not try to do too much all of the time, but I'm a work in progress!
For Thanksgiving, I had great plans to make an elaborate dessert… But, we ended up being out of town on Tuesday and Wednesday for a funeral. So, I had to revise my strategy a bit.  In the end, it worked out though… I found this great recipe for a brownie tart (that I jazzed up just a bit), and it was a huge hit. It's rich and decadent, but pretty simple to make.
The best thing about this tart is that it looks elegant, but it's as easy as whipping up a batch of brownies. If you're like me, and you tend to go overboard when it comes to entertaining, this recipe is a must-try. You will amaze your guests with a rich chocolatey dessert (that you made the night before!) without all of the stress! Want to jazz it up a bit more? Try adding some freshly whipped cream (and you could spike it with some coffee or chocolate liqueur!) or a scoop of ice cream!
Hazelnut Brownie Tart with Nutella Ganache
Makes one 9-inch tart, serves 8 – 10
(Adapted from Ina Garten)
For the tart:
6 tablespoons (3/4 stick) unsalted butter, cut into large pieces
3 cups of dark chocolate chips, divided
3 eggs
1 cup granulated sugar
1 tablespoon instant espresso powder
1/2 teaspoon pure vanilla extract
1/2 cup all purpose flour
1/4 teaspoon baking powder
1/4 teaspoon salt
1 cup chopped hazelnuts
For the Nutella ganache:
1/3 cup Nutella
1 cup dark chocolate chips
1/2 cup heavy cream
Chopped hazelnuts for garnish (optional)
Preheat the oven to 350°F. Lightly grease and flour a 9-inch tart pan.  Place the pan on a baking sheet (this makes it easier to move in and out of the oven) and set aside.
To prepare the tart, combine the butter and 2 cups of chocolate chips in a bowl placed over simmering water. Stir frequently until the chocolate has melted and the mixture is smooth.  Remove the bowl from the heat and set aside to cool to room temperature.
Meanwhile, beat the eggs, sugar, instant espresso, and vanilla on medium-high speed until the mixture is light and fluffy. Gently stir in the chocolate.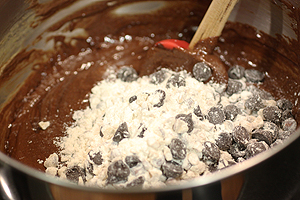 In a separate bowl, stir together the flour, baking powder, salt, chopped hazelnuts, and the remaining 1 cup of chocolate chips. Gently fold the dry ingredients into the chocolate batter.  Transfer the batter to the prepared pan and bake for about 35 minutes. The center of the tart will puff up and be just set. The top may crack a bit, but the inside will still be soft and chewy. Cool the tart completely before removing from the tart pan.
To prepare the ganache, combine the Nutella and chocolate chips in a small mixing bowl.  Bring the heavy cream to a simmer. Pour the hot cream down over the Nutella and chocolate chips. Whisk until smooth.
Once the tart is cooled, spread the ganache over the top of the tart. Sprinkle with chopped hazelnuts, if desired.