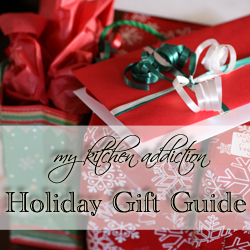 All week, I've been talking about holiday gifts… After all, the holiday season is now in full swing!
I know Etsy's been around for a while now, but in the last year I have really started doing some shopping on Etsy. And, I can't get enough! So, for this week's Friday Favorites, I thought I'd share a few more gift ideas… And, they're all available on Etsy.
And… Stay tuned at the end of this post for another great giveaway!
For the Bloggers and Social Media Enthusiasts…  There are all sorts of fun personalized gifts for the social media gurus on your list.
For the Bakers… Here are some fun ideas for anyone on your list who loves to bake.
For the Art Lovers… Picking out the perfect photo or artwork for a friend can be the perfect gift. Here are a few of the things that I am loving!
I have fallen in love with food photography, and I know I am not alone! The food photo lovers out there will love a print of a mouthwatering food photo. Need some inspiration? You will find lots of stunning photos from honey & jam photography or A Thought for Food, two of my personal favorites!
Are you looking for some personalized art? Look no further than Kudos Kitchen Art by Renee. She has a great assortment of hand painted glassware, mugs, bowls, and tiles. I ordered some guitar themed tiles from Renee for my hubby's birthday, and I couldn't have been happier with them…  She does amazing work!
If you're looking for something a bit more modern, be sure to check out these fun Kitchen Art Prints from Oodles of Color. The tough part will be deciding which three prints to include in your set! No room for a set of three? You can buy a single print, too.

Sugared Beauty Giveaway…
As promised, I also have a great giveaway for you today! I mentioned above that I met Sarah from Sugared Beauty at a local farmer's market. And, as soon as I did, I knew that I wanted to collaborate with her. She really has some amazing beauty products, and they are all natural, which I love!
Want to know more about her? You can check out her Sugared Beauty website and also follow @SugaredBeauty on Twitter. You'll also want to check out her Facebook page!
Sarah has agreed to give a bit of an early Christmas gift to one lucky reader… She is giving away a gift set (with a retail value of about $15) including the following items…
Jar of gingerbread cookie scrub
Cocoa butter lotion bar
Lip balm
Congratulations to Barb of Creative Culinary… She was randomly selected as the winner of the Sugared Beauty gift set!
Discount for My Kitchen Addiction Readers…
The good news doesn't stop there! You can get a head start on your online shopping with Sugared Beauty and enjoy a 15% discount (valid until the end of the giveaway on December 6th). Simply use the coupon code "KITADFAN" at checkout in the Sugared Beauty Etsy Shop!
My Kitchen Addiction Disclosure– The giveaway item (gift set from Sugared Beauty) has been provided at no cost to me. I have not been otherwise  compensated for this post. As always, all opinions expressed are my own.