When it comes to dinner parties around the holidays, I am all for thinking outside the box. Turkey, ham, and roast beef are fantastic, but sometimes I think it's fun to do something a bit more casual and cozy, especially for a small gathering of friends or family!
Casseroles are a great way to keep things simple when you are entertaining for the holidays. Most casseroles can be prepared the night before, which leaves you with plenty of extra time to prep for your holiday guests.
Lately, one of my favorite casseroles is a simple baked ziti. It comes together quickly and has all of the flavors of lasagna.  Plus, it's almost always a crowd pleaser!
Whether you're entertaining a group of friends for the holidays or just enjoying a chilly evening at home, this is a classic dish that I think you're going to want to try!
Baked Ziti Casserole
Makes about 10 servings
1 pound ziti pasta
(penne works, too)
1 tablespoon extra virgin olive oil
1 pound sweet Italian sausage, casings removed
1 large onion, diced
3 cloves garlic, minced
1 teaspoon dried basil
1/2 teaspoon dried oregano
1/2 teaspoon dried thyme
28 ounces crushed tomatoes
15 ounces diced tomatoes
16 ounces lowfat cotage cheese
16 ounces lowfat ricotta cheese
8 ounces part-skim mozzarella cheese, shredded
Kosher salt
Freshly ground black pepper
Preheat the oven to 400°F. Grease a 9 by 13-inch casserole dish and set aside.
Meanwhile, cook the pasta according to package directions. Drain and set aside.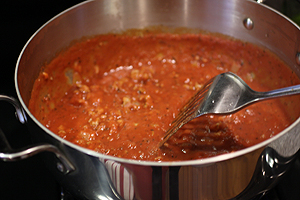 Heat the olive oil in a large pot over medium heat.  Add the sausage and brown in the oil.  Once the sausage is browned, add the onion, garlic, basil, oregano, and thyme.  Continue to cook for a few minutes until the onions are softened and translucent.  Add the crushed and diced tomatoes. Bring to a simmer and cook for about 10 more minutes.  Adjust the seasonings to taste with salt and pepper.  Remove the sauce from the heat and stir in the prepared pasta.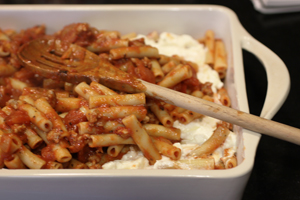 Meanwhile, in a mixing bowl, stir together the cottage cheese, ricotta cheese, and 2/3 of the mozzarella cheese. Season the mixture with salt and pepper.
Spread 1/3 of the pasta in the bottom of the prepared casserole dish. Then, spread 1/3 of the cheese mixture on top.  Repeat with layers of pasta, cheese, and finally one more layer of pasta.  Dot the top with the remaining cheese mixture and sprinkle the remaining mozzarella cheese on top.
Bake uncovered for about 30-35 minutes, until the casserole is bubbly and the cheese is golden.