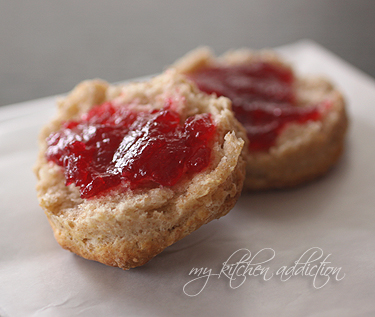 Most of the time I know whether or not I am going to write about a recipe before I ever start cooking or baking. In my kitchen, there are "blog recipes" that I have given a lot of thought and consideration (and taken time to photograph!) and then there are the dishes that I whip up for lunch or dinner when I just need to get something on the table. Sometimes it's nice to just put down the camera and cook.
I made these biscuits for lunch on a rainy day last week. When I started mixing up the dough, based on an old hand-written recipe I have from my mom, I had no intentions of writing about the biscuits. I just wanted something warm to go along with the not-too-interesting salad I was planning to eat for lunch.
As the oven was preheating, I quickly mixed up the dry ingredients, cut in the butter, and patted the dough out onto my flour dusted cutting board. As I was about to start cutting the biscuits, though, I was suddenly struck with some inspiration. It was a dreary day, but I loved the way the dim light was hitting the biscuit dough.
This time of year, I often find that I have trouble getting inspired to photograph new recipes. The sun sets in the late afternoon, and the natural light for bright and cheery food photos can be hard to find. But, I decided to embrace it. Instead of trying to turn my food into something it's not, I embraced it for what it was. I was baking biscuits on a chilly, dreary day. My photos are full of harsh shadows and dim lighting. But, I think that's what I liked about them.
Sometimes bright and cheery just doesn't quite capture the whole story behind a dish.
Whole Wheat Baking Powder Biscuits
(Makes approximately 15 biscuits)
1 cup whole wheat flour
1 cup unbleached all purpose flour
1 tablespoon baking powder
1/2 teaspoon salt
1/4 cup (1/2 stick) cold unsalted butter
6 ounces Greek yogurt
1/2 – 3/4 cup milk
1 tablespoon honey
Preheat the oven to 450°F. Line a baking sheet with a silicon liner or parchment and set aside.
In a large mixing bowl, whisk together the whole wheat flour, all purpose flour, baking powder, and salt. Cut the butter into small chunks and use a pastry blender (or your fingers) to cut the butter into the flour until the mixture resembles wet sand with small pea-sized pieces of butter mixed in.
In a separate bowl, whisk together the yogurt, 1/2 cup of milk, and honey.  Add to the mixing bowl, and toss gently to combine until the dough comes together.  Add additional milk one tablespoon at a time, if necessary, adding just enough to create a dough.
Pat the dough out onto a lightly floured surface, and use a round cookie cutter to cut out biscuits. Place the biscuits on the prepared baking sheet and bake for 12 – 15 minutes, until golden. Serve warm.