It feels good to be back on track with my Kitchen Bootcamp challenge… And, I can't think of a better way to get back in the swing of things than with this pasta and dumplings challenge! It was certainly a personal favorite of mine, and it seems like everyone else had a great time, too! So, let's get right to the recipes, shall we?
For this month's challenge, I took on two different recipes. I made homemade semolina pasta and tried my hand at my very first batch of ricotta gnocchi. Both recipes are new favorites here at my house!
A lot of people think everything's better with bacon… That may be true, but I'll take prosciutto over bacon any day. I can't wait to give this Pasta with Prosciutto and Whole Cloves of Garlic from Cupcake Muffin a try!
After making my own homemade gnocchi this month, I can't get enough. This recipe for Butternut Squash Gnocchi with Brown Butter Sage Sauce from Cookbooks 365 is now at the top of my list!
As if one post wasn't challenge enough, check out this second post about Making Pasta from Cookbooks 365. I just love all of the photos of this adorable little kitchen helper!
Gnocchi was a popular favorite this month! I am loving the look of this Sweet Potato Gnocchi from Grocery Alerts. One can never have enough gnocchi recipes, right?
I think pasta is a great option for cooking with kids! I am loving this Homemade Cavatelli made by the always popular Les Petits Chefs over at eat. live. travel. write. This is another one where you won't want to miss all of the great step-by-step photos!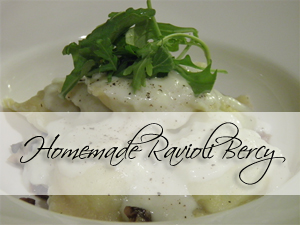 Ravioli is another favorite of mine. I didn't make any this month for the challenge, but I do make it pretty regularly to stock the freezer. I think this Homemade Ravioli Bercy from Mangoes and Chutney would be a great one to stock the freezer with!
I'm so glad that everyone had a fun time with this month's challenge! Stay tuned for next month's Kitchen Bootcamp challenge!