Each year, I do quite a bit of holiday baking… I'm sure that comes as no big surprise to most of you. I just love giving homemade goodies to all of our friends and family. Of all of the baking I do, I think cookies are my favorite.
One of the things that I enjoy most about the holidays, besides the baking, is packaging everything up in festive packaging, ready to go to holiday parties and family get togethers. Of course, I don't have an endless budget, and fancy packaging and gift wrap can get rather expensive pretty quickly. So, I've learned to be creative.
Since I'm focusing on holiday gift ideas this week, I thought I'd share nine of my favorite ideas for packaging up your holiday goodies without breaking the bank. Your friends and family will love receiving homemade cookies and other treats, especially when they are all dressed up. These ideas work for me, and I'm hoping they'll work for you, too!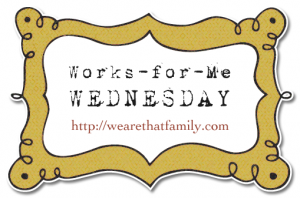 Festive Packaging for Your Holiday Baked Goods…
Most of these ideas have been born from necessity, using whatever I have on hand.  I tend to keep a variety of ribbon on hand, and I love my tag-shaped die-cut punch.  I can create tags to label my homemade treats and jazz up my packaging in no time at all!
Holiday Tins – There's a reason that giving cookies in a decorative holiday tin is so popular. All you have to do is line the tin with a bit of waxed or parchment paper and you're good to go! Buying lots of tins can get expensive, but keep an eye out for sales and consider stocking up for next year during after-Christmas sales.  And, don't be afraid to re-use tins that you've been given in prior years!
Waxed Paper Package – I always have waxed paper (or parchment paper) in my pantry. So, when I'm in a pinch, I just wrap the cookies up in a large piece of waxed paper. It can be tied up with a bit of string or festive ribbon. Use whatever you have on hand!
Canning Jars – Quart-sized canning jars are perfect for gift giving, and they work especially well for long, thin shaped cookies (like biscotti!). The packaging is simple and elegant. You can add a bow, but it's not really necessary!
Gift Box – Craft stores carry an assortment of cardboard gift boxes this time of year. They are fairly inexpensive and make a great vessel for homemade goodies.  Just place the baked goods in the box and tie it with a festive ribbon. Simple!
Takeout Boxes – While you're at the craft store, check out the decorative takeout containers! They are usually less than $1.00 each, and they are a fun way to jazz up your cookies.
Cellophane Bags – Cookies and other baked goods always look better when they are individually wrapped in a cellophane bag. You know it's true! Tie each bag with a ribbon and you're good to go! You can put the individually wrapped cookies into a basket or a gift bag.
Plastic Plate – I think most of us have a collection of disposable plastic plates hanging around the house. Instead of just covering the plate with a sheet of plastic wrap, try wrapping it upside down, gathering the ends of the plastic wrap on the top of the plate with curling ribbon and a gift tag. Trim the edges to create a festive "poof" on the top of the plate.
Mug – Have a few extra holiday mugs on hand? Place cellophane wrapped cookies inside of a mug for an extra special gift. Biscotti are especially cute in a coffee mug. Even if you don't have mugs on hand, you can find inexpensive ones at department stores and craft stores.
Paper Sacks – You know those brown paper sacks that we all used to carry our PB&J sandwiches in? They're great for gift wrapping, too. Just fold over the top, punch a few holes, and thread a ribbon through the holes to close up the bag. The traditional brown bags will do (and they are certainly the cheapest), but you can also find decorative bags at craft stores or even at Target!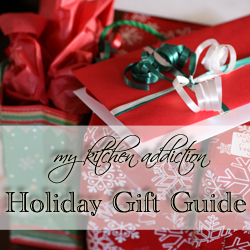 Don't forget to drop by again on Friday for more great gift ideas and another giveaway! It's a good one… You're not going to want to miss it!