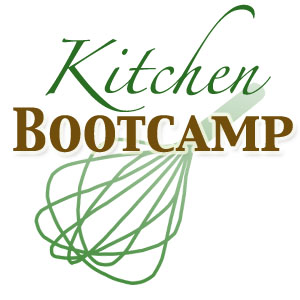 I loved all of the enthusiasm for the October Kitchen Bootcamp challenge, so I won't waste any time… Let's get right to the next challenge!
You might hate me for this one, but I decided that this month we will tackle the chapter on Fillings, Frostings, and Dessert Sauces (Chapter 38 in The Professional Chef). With the holidays right around the corner, I always like to step things up a bit with my desserts. And, nothing takes a dessert to the next level quite the way a great filling, frosting, or sauce does. Who's with me?
So for this challenge, try something new! Have you always wanted to try your hand at some swiss meringue buttercream? Or perhaps you want to perfect your filling for the perfect pumpkin pie to impress your relatives. Perhaps you just want to make a quick caramel sauce to serve on top of some ice cream for a relaxing sundae party at home. That's what I love about these challenges… You can see what grabs your attention and go with it!
As always, I'll be using The Professional Chef as my guide and reference for the challenge. It's a great source of information and has some great recipes and ideas in this chapter. You are welcome to use any sources you have available to you, though. Just tackle any filling, frosting, or dessert sauce you can find!
Since everyone's schedules are busy this time of year, I'm going to make this a combined holiday challenge for November and December. I'll be posting the roundup  of all of your fillings, frostings, and sauces on Monday, December 19th.. So, if you would like to participate, please be sure to submit your post (and a photo, if you would like one to be included!) no later than Sunday, December 18th.
If you're new to my Kitchen Bootcamp challenges, I'd love to have you join us. Here are all of the details to get you started.  Want to chat about the challenge in the meantime? I've created a Facebook group so that you can share your blog posts, ask questions, or even brag about your awesome recipes as you are working on the challenge.
Please Note – The links to The Professional Chef provided in this post are Amazon affiliate links.