Since this month's Kitchen Bootcamp theme is pasta and dumplings, I thought I'd try a new recipe for homemade pasta.  I've made my share of pasta in the past (and usually it winds up getting used for ravioli), and I've always used the same recipe.  After reading the simple recipe in The Professional Chef, though, I knew I had to mix it up a bit.
What I loved so much about the recipe was that it gave a pretty basic formula for making your own pasta. Really you just need one pound of flour and four eggs. Then, based on any additional ingredients you decide to add, you can just adjust the consistency with a little bit of oil and/or water. That's simple enough!
When I've made pasta in the past, I've always just used all purpose flour. It works well enough, but I've always wanted to explore other flours and flavors. Since I had a big bag of semolina flour in my pantry (I bought it for pizza crust, but was never happy with the results), I decided that was a good place to start.  If you're not familiar with semolina flour, it is a bit on the gritty side. It's not ground quite as finely as all purpose flour. The consistency sort of reminds me of cornmeal. While I wasn't thrilled with the results when I used it for baking, I've always heard that it's great for making homemade pasta, so I decided to give it a try. Because I was still slightly unsure about the texture, I did use a little bit of all purpose flour to smooth things out a bit, though. In the end, the pasta was fantastic!
I have a pasta machine that I just love, and I used it to roll the sheets by hand and then cut them into thin, flat fettuccine noodles. Because I like my pasta to be al dente, and I have found that texture hard to achieve with fresh pasta, I decided to dry the pasta overnight before cooking it.  While the noodles were a bit brittle, they dried beautifully and I was able to cook them to the perfect texture the next evening for dinner. The flavor was great, too. I think I'll be picking up another bag of semolina flour to keep on hand for pasta making!
If you're just getting started with your own homemade pasta, I think this recipe is a great place to start.  I absolutely recommend weighing your flour instead of measuring it in cups, which is why I have only provided weights in my recipe.  I've found that you'll have much more consistent results with your pasta that way.
Homemade Semolina Pasta
(Makes about 10 servings of pasta)
4 ounces all purpose flour
12 ounces semolina flour
Pinch of Kosher salt
4 eggs
1 tablespoon extra virgin olive oil
1 – 2 teaspoons warm water (if necessary)
In a large mixing bowl, whisk together the all purpose flour, semolina flour, and Kosher salt. Create a well in the center of the flour. Add the four eggs and the olive oil to the well in the center of the flour mixture.  Use your fingers to break up the egg yolks and gradually work the dry ingredients into the eggs.
The mixture may feel crumbly at first, but it should start to come together as you work with it. Gather the dough up and begin to knead it in the bowl.  If it doesn't come together as you knead, add just a few drops of water at a time.  You don't want the dough to be wet, you just want it to have enough moisture that it will come together in a smooth ball as you knead.
Once the dough has come together, turn it out onto a clean, lightly floured surface. Continue to knead for about 5 minutes until the dough is smooth. Shape the dough into a ball, wrap it with plastic wrap, and allow it to rest for at least an hour at room temperature.
Once the dough has rested, cut a small portion from the dough (leaving the unused portions of the dough wrapped in plastic so that it doesn't dry out). On a lightly floured surface, roll the small portion of dough into a rectangle that is approximately 1/4-inch in thickness.
Then, use the pasta machine to roll the dough to the desired thickness, starting on the thickest setting and working your way down to a thin sheet of pasta.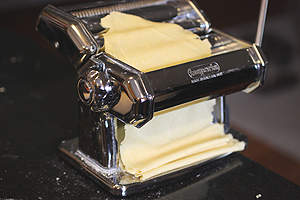 Once you have a thin sheet of pasta, sprinkle it lightly with flour, and then pass it through the noodle cutter to cut the pasta into the noodles.
Note – You can also roll the dough out by hand with a rolling pin or use pasta attachments for a stand mixer.
If you are drying your pasta, be sure it is hanging in a single layer and not too crowded. It should be completely dry before you store it in an airtight container.
To prepare the pasta, simply boil it in salted water as you would prepare any dried or fresh pasta.  The length of time required to cook the pasta will vary based on the thickness of the pasta and whether or not you dried it.
Please Note – The links to the Professional Chef and the Imperia Pasta machine are Amazon affiliate links.