I don't know if there is another pumpkin shortage this year, but I certainly haven't been able to find any cans of pumpkin on the shelves at my local grocery store. It's not a big deal, though… I'd actually rather make my own!
Last year, I wrote a quick tutorial on how to make your own pumpkin puree… All you have to do is cut a pumpkin into large chunks and roast it in the oven. Then, scoop the flesh into a blender or food processor and you have puree.  Perfect, right?
Here's the thing… I love the flavor of the homemade puree. It makes a lovely pumpkin soup and is luscious in a sauce for pasta.  However, when I would try to substitue my puree in a recipe that called for canned pumpkin, it wasn't quite right.  The canned stuff is always so much darker in color and much thicker.
At first, I tried straining the extra liquid out of my homemade puree to thicken it.  It seemed like a good idea, but it left the puree somewhat bland and tasteless. The more I thought about it, the more it made sense.  Instead of straining out the liquid (which is chock full of pumpkin flavor), what I really needed to do was concentrate it!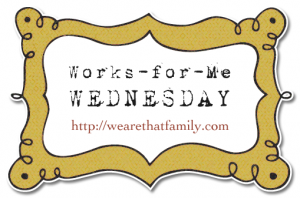 Thickening Homemade Pumpkin Puree
To thicken your homemade pumpkin puree to use in your favorite recipes that call for canned pumpkin (especially in baking), simply reduce it! It works!
Start by roasting your pumpkin (or squash… there are so many lovely varieties this time of year!) and making puree (here's that tutorial again!). Then, transfer your puree, excess liquid and all, to a large saucepan or skillet.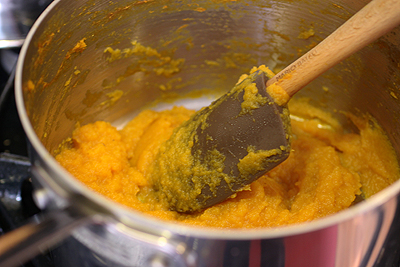 Heat the puree over medium-low heat.  Bring it to a simmer, stirring frequently to keep the puree from scorching or sticking to the pan.  Continue to simmer until the puree has thickened to the consistency of canned pumpkin.
Allow the thickened puree to cool completely before using it, storing it, or transferring it to an airtight container and freezing.