Not long ago, I shared a recipe for peanut butter pie and told you about my friend Jennie who suddenly lost her husband and best friend. I was struggling to process the news and had trouble finding the words to write my blog post. But, I knew that I had to do it. For Mikey… And, for Jennie.
As I read hundreds, possibly even thousands, of blog posts about peanut butter pie, I was overwhelmed. I can hardly imagine how Jennie must feel. Even though we were all writing about pie, it wasn't about the recipe. Sure, most posts included a list of ingredients, instructions, and even a few "glamour shots" of the completed pies… But, shining through the creamy peanut butter filling and drizzled chocolate was an overwhelming sense of community. Everyone was pulling together to support Jennie and make pie, just as she asked.
Now, over a week later, the peanut butter pie has been eaten, and I'm sure we have all given our loved ones a few extra hugs. But, we can't stop there. As we have all gotten back to our daily routines, Jennie has been trying to adjust to a new reality. Though she is strong (and believe me, she is), she still needs our support. In addition to being there for her two girls and just adjusting to her new life, she is also faced with the financial burden of paying for health insurance, a mortgage, and many other expenses that were previously covered by two incomes.
The good news is that the food blogging community didn't just stop at peanut butter pie. Bloggers Without Borders (a newly established non-profit organization… by bloggers, for bloggers!) has organized #AFundForJennie to provide some financial security for Jennie and her daughters.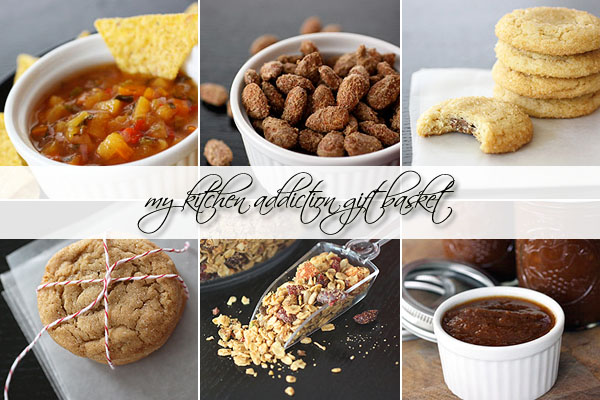 My Kitchen Addiction Custom Gift Basket…
So, to help raise some money for the fund, I have decided to auction off a gift basket of some of my favorite homemade goodies… It will feature some of my favorite snacks and treats that have been featured here on the site. I will customize the basket for the highest bidder, taking favorite foods and allergies into account. The winner will get to choose from a selection of…
(1) Package of Cookies – We all know I love to bake cookies! Is chocolate chip your favorite? Or perhaps you're more of an oatmeal cookie fan? Maybe you've been dying to try my chewy graham cookies… No problem! Gluten-free? I can do that, too!
(2) Canned Goods – I've been busy in the kitchen lately, and my pantry shelves are stocked. You can choose from homemade pickles, jams, relishes, and salsas!
(1) Bag of Roasted Nuts – Everyone always raves about my spicy cocoa roasted almonds… But, if cinnamon spiced pecans sound better to you, that's what I'll make! Can't have nuts? We will work something out!
(1) Package of Homemade Granola – My favorite granola recipe was actually inspired by the granola that Jennie shared with me when I was in NYC in March. So, it only seems appropriate that I share some with you!
Extras – Once I get a good sense of what you like (based on your choices above), I will throw in an additional surprise or two!
Ready to start the bidding?
To bid on my custom gift basket, leave a comment on this post with your bid.  I am going to start the bidding at $50. I will accept bids until next Monday, August 29th at 10:00pm (Eastern). Then, I will announce the winner on Tuesday, August 30th and start working on the custom gift basket (which will be shipped in September).
Please Note – 100% of the money generated by the auction will go straight to Bloggers Without Borders to support #AFundForJennie.
Thank you to everyone who placed a bid on this custom gift basket.  The winner of the auction is Eva Canitano!
Not interested in bidding on the basket? You can also donate directly to  Bloggers Without Borders by clicking on the image below.