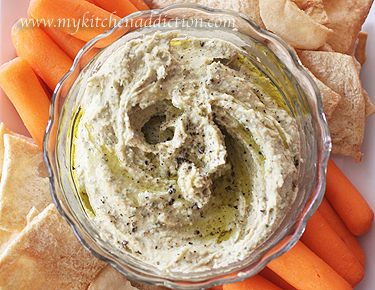 I find myself tending towards simple food in the summer. I'm sure you can relate.  I want something that's simple to make and made with fresh, healthy ingredients.
That's the place where this lemon herb hummus came from.  The last few weeks have been pretty busy around here (I won't bore you with the details), leaving me with little effort to put into dinner. Sure, I have succumbed to ordering pizza and grabbing sandwiches at a local diner a few times. It happens to all of us. But, I also wanted to make sure we had some healthy snacks around the house to ensure that we would still eat well despite our busy schedules.
When I think of something healthy to snack on, hummus often comes to mind, though I don't make it nearly enough. I think I will have to remedy that now, though. This lemon herb hummus came together in a matter of minutes, and it was packed with flavor. It's also a filling snack, and can be enjoyed with baked pita chips or fresh veggies. I used the herbs that I had on hand from my garden, but you can substitute your favorites.
Lemon Herb Hummus
(Makes about 2 cups)
15 ounce can garbanzo beans, rinsed and drained
(preferably organic, sans BPA)
2 tablespoons tahini
Handful of basil and oregano leaves
1 lemon
1/4 cup extra virgin olive oil, plus additional for drizzling
Kosher salt
Freshly ground pepper
Combine the garbanzo beans, tahini, and herbs in a small food processor.  Zest the lemon and add the zest to the food processor, and then squeeze the juice of the lemon into the food processor. Pulse until evenly combined and finely chopped.
Gradually stream in the olive oil until the mixture comes together and is smooth. Add enough olive oil to achieve a consistency that you like.  Season to taste with salt and pepper.
Serve drizzled with additional olive oil and topped with some freshly ground pepper.