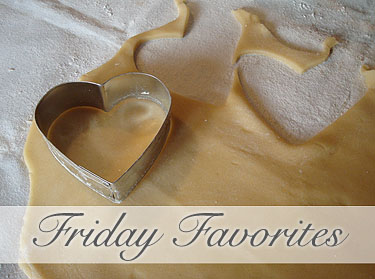 This week, I've been thinking a lot about my writing and my photography. Since attending the Big Summer Potluck last weekend (I apologize if you are sick of hearing about it!), I have felt a renewed sense of inspiration to really work at improving as a writer and as a photographer.  Instead of just going through the motions each time I develop a recipe or write a post, I've really been focusing on giving the whole process a lot more consideration and effort.
So, this week I thought I would highlight some of my favorite writers and photographers in this week's Friday Favorites. I hope it will help to inspire you, as well!
If you are looking for a bit of a refresher course on design and composition, don't miss this great post on The Principles of Design from Gourmande in the Kitchen. I always love the rich colors and the unique style of Sylvie's photos, and I just cannot get enough. Be sure to browse her site while you're there!
I always admire writers who make me feel like I am a part of the story that they are writing – like I am there with them. Be sure to read Delighting in the Unexpected from A Sweet Spoonful. I think you'll agree that Megan has quite a skill for story telling. Did I mention that her photos are always lovely, as well?
Sometimes I get sick of perfectly plated food… I never eat on a crisp white tablecloth because I know I would spill something and stain it! I want to see food that is natural, food that makes me want to dive in and take a bite (without worrying about spilling something!). This Roasted Corn with Manchego and Lime from A Thought for Food is a perfect example of what I'm talking about… Don't you want to just grab the fork and dive right in?