Do you ever find yourself in one of those moments where you just have no idea what to do next and you find yourself unable to do anything at all? That is exactly what happens to me when I am trying to plan meals for the week. Especially when I don't have a lot of time and I need to go to the grocery store.
That was the scenario a few weeks ago. It was Sunday afternoon, and I was sitting on the couch with my hubby (He was watching baseball… I was not.) trying to come up with a meal plan so that I could run to the grocery store and get the shopping for the week out of the way. It was a good idea in theory. But, I stared at a blank piece of paper for about an hour and a half. Then, I flipped through a few cookbooks, went through the starred items in my RSS reader, and even peered into the fridge. Nothing was inspiring me, and after an entire afternoon, I was no closer to having a meal plan, and I certainly wasn't ready to head to the grocery store.
Since it was close to dinnertime, I finally came to terms with the fact that I wouldn't be getting my grocery shopping done. Not wanting to waste any more time sitting on the couch, I decided to just make the best of the ingredients I already had in the fridge – green beans. Green bean casserole in the middle of August didn't sound good to me. I'll be honest… Green beans in any form didn't really sound good to me. I wanted a burger and fries. Then, it hit me… I could turn the green beans into fries.
That "light bulb" moment was all that I needed… I immediately got to work blanching the green beans, setting up breading stations, and roasting garlic for a dipping sauce. (After all, what good are fries without some sort of sauce?) I was back in the game.
Admittedly, this is not the quickest way to get rid of green beans. I wouldn't say that the recipe is difficult… But, it is a bit tedious. If you ask me, breading just about anything is tedious… So, individually breading a whole bunch of green beans can be a bit much. But, it's worth it. It certainly takes boring beans to a whole new level. Serve these green bean fries up with a grilled sandwich or a burger, and you have a dinner that is sure to please the whole family.
Baked Green Bean Fries with Roasted Garlic Dipping Sauce
(Serves 2 – 4)
For the fries:
8 ounces green beans, trimmed
1/2 cup all purpose flour
2 eggs
1 1/2 cups panko bread crumbs
1/2 teaspoon onion powder
1/4 teaspoon cayenne pepper
Kosher salt
Freshly ground black pepper
For the dipping sauce:
1 small head of garlic, roasted and smashed into a paste
1/4 cup light mayonnaise
2 tablespoons extra virgin olive oil
1 tablespoon Dijon mustard
Kosher salt
Freshly ground black pepper
Preheat the oven to 425°F.  Line a baking sheet with parchment or a nonstick liner, and set aside.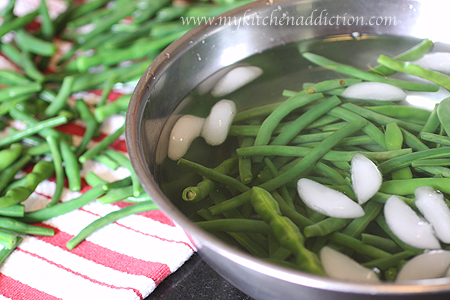 To prepare the fries, begin by blanching the green beans.  Submerge them in boiling water for 2 – 3 minutes until they are bright green but still a bit crisp.  Immediately transfer the green beans to a bowl of ice water to stop the cooking process.  Then, lay them out on a clean towel and pat them dry.
Set up the three breading stations in three shallow bowls.  Place the flour in the first bowl and the eggs in the second bowl.  In the third bowl, combine the bread crumbs, onion powder, and cayenne pepper.  Season all three bowls with salt and pepper, and give each one a quick whisk to make sure the seasonings are evenly incorporated.
Dip the green beans first in the flour, shaking off any excess, and then in the egg.  Then, toss the green beans in the bread crumbs to coat evenly and transfer to the prepared baking sheet. Be sure to place the green beans in a single layer, leaving some space between them so that they bake evenly and get nice and crunchy.
Bake the green bean fries for about 15 minutes, until golden and crisp.
Meanwhile, prepare the dipping sauce.  Wisk together the roasted garlic paste, mayonnaise, olive oil, and Dijon mustard.  Season to taste with salt and pepper.
Serve the fries immediately with the dipping sauce on the side.