This is a Sponsored post written by me on behalf of Sunkist for SocialSpark. All opinions are 100% mine.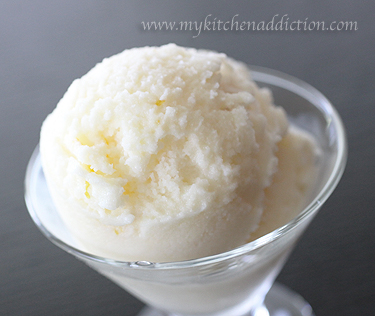 Isn't it funny how certain foods remind you of a particular time of year? Previously, when I thought of oranges, I was always reminded of Christmas.  We always had oranges on hand around the holidays because many orange varieties (like naval oranges) are in season during the winter.
It turns out, though, that not all oranges are in season during the winter… Valencia oranges are actually in season during the summer! That's good news for me because I do love citrusy flavors in the summer…. Especially oranges!
Picking Out the Perfect Oranges…
Have you ever seen oranges at the grocery store in the summer that look a bit green? It turns out that Valencia oranges re-green in warm weather.  As the oranges ripen on the tree, the orange skin reabsorbs chlorophyll and can have a green appearance.  As it turns out, the orange may look green on the outside, but the inside is still perfectly ripe and delicious. You can learn more about re-greening from this Sunkist Valencia Oranges Re-greening Video.
Summer Oranges…
One of my all-time favorite treats in the summer has always been orange sherbet. I ate quite a bit of the bright orange colored stuff when I was a kid.  As I thought about creating a recipe with some Valencia oranges, I knew that I wanted to make some homemade orange sherbet… Orange sherbet without the food coloring that is cool, refreshing, and actually tastes like real oranges!
I was immediately reminded of a simple recipe for lemon sherbet from my friend Michelle's cookbook – The Whole Family Cookbook.  I just loved the way her recipe used buttermilk in the sherbet to add a nice tangy flavor. So, I decided to take that idea and run with it.  I changed the recipe up a bit to make my own orange buttermilk sherbet.  It was everything I had hoped it would be – creamy, refreshing, and perfect for the summer!
Looking for more great ways to use Valencia oranges this summer? Don't miss these additional Sunkist citrus recipes!
Orange Buttermilk Sherbet
(Makes about 1 1/2 quarts, adapted from The Whole Family Cookbook)
1 cup freshly squeezed orange juice(from approximately 2-3 Valencia oranges)
Zest from 1 orange
1 quart lowfat buttermilk, chilled
1/3 – 1/2 cup granulated sugar, to taste
1 teaspoon vanilla extract
Combine the orange juice, zest, buttermilk, sugar, and vanilla extract in a large mixing bowl. Whisk vigorously, dissolving as much of the sugar as you can. I'd recommend adding just 1/3 cup of the sugar, and then adding additional sugar to taste. The oranges are sweet, so you won't need a lot of sugar!
Freeze the mixture in an ice cream maker according to the manufacturer's directions.  The sherbet will be soft right out of the ice cream maker, so it can be transferred to an airtight container and frozen in the freezer for an additional hour or two until it is hard enough to scoop.
I think the sherbet is best eaten a few hours after it is made (it is super creamy this way!). If it gets a bit icy and too hard to scoop in the freezer, it can be left on the countertop for a few minutes to soften.