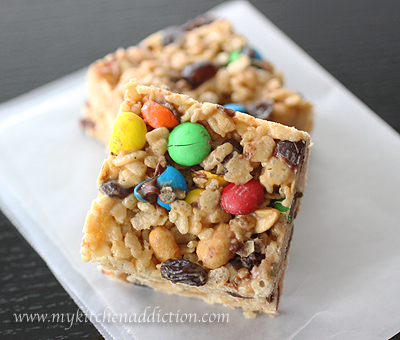 Do you plan fun treats when you go on vacation? Sometimes I think I spend more time figuring out what food to prepare for our vacations than I do planning the vacation itself!
So, when I was planning for our camping trip last week, I immediately started thinking about snacks to take along.  I knew we'd be on the go quite a bit… Hiking in the woods, taking the doggies swimming, and just enjoying the outdoors.
When I think of camping food, two of the things that instantly come to mind are s'mores and trail mix. Since s'mores aren't too portable (and would be really messy if you just threw them into your backpack while hiking!), I started thinking about some rice krispy treats instead.  Instead of plain rice krispy treats, though, I decided to incorporate some trail mix ingredients. I also threw in some peanut butter for good measure… If you ask me, peanut butter rice krispy treats are always better than plain ones. Right?
We had a great (and relaxing!) week on vacation, and we really enjoyed the trail mix bars… They were the perfect sweet snack! Love vacation pictures? (I know I do!) You can see a few of my favorite vacation photos on Flickr!
Krispy Peanut Butter Trail Mix Bars
(Makes about 20 – 24 bars)
10.5 ounce package of miniature marshmallows
1/4 cup unsalted butter
1/2 cup smooth peanut butter
5 cups Rice Krispies cereal
1 cup raisins
1 cup peanuts
1 cup plain M&Ms
Lightly grease a 9 by 13 inch baking pan and line with waxed paper.  Set aside.
Combine the marshmallows and the butter in a large microwave-safe mixing bowl. Microwave for 3 – 4 minutes, until the marshmallows are completely smooth when stirred.  Stir in the peanut butter until the mixture is smooth.
Add in the cereal, raisins, peanuts, and M&Ms, stirring until evenly mixed. Press the mixture into the prepared pan.  Cover, and let sit at room temperature until completely cooled and set.
Use the waxed paper to pull the treats out of the pan. Use a knife to cut into bars. Store in an airtight container or individually wrap.