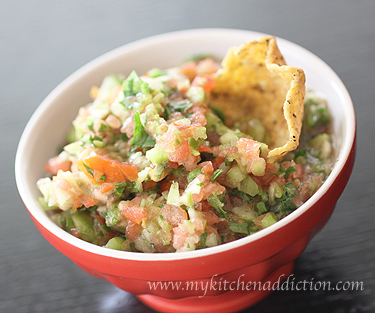 I would love to say that we have lots of ripe, juicy tomatoes in our garden at the moment, but that's not the case.  It seems that the hot, dry weather we have had lately is working against me. And, of course, the groundhog that has learned to climb the fence isn't really helping, either.
Despite my tomato woes, the garden hasn't been a total loss this summer. I always seem to do well with growing spicy peppers, and our cucumbers have been going crazy! I think I have picked 16 cucumbers from my two small cucumber plants, and there are more on their way.
So, when I wanted to make a fresh salsa last week, I had to deviate a bit from my usual summer salsa. I had one tomato left over from our CSA (apparently, they have better luck with tomatoes than I do… And, perhaps, fewer groundhogs!) and I decided to use a few green tomatoes that had fallen off of the branches on one of my tomato plants. Since I'll do just about anything to get rid of a cucumber at the moment, I threw in some cucumber, too. It made the salsa nice and refreshing… I think I will actually add cucumber more often now!
Fresh Garden Salsa
1 large ripe tomato
2 small green tomatoes
1 cucumber
2 jalapeño peppers, seeded
Bunch of fresh cilantro
1 lime
Kosher salt
Cut the tomatoes, cucumber, and peppers into chunks (no need to worry about evenly chopping here!).  Place them in a food processor, and give them a few quick pulses.  Add the leaves from the cilantro and squeeze the juice from the lime into the food processor bowl.  Pulse until the salsa is the consistency that you like.  Season to taste with the salt.