I'm all about simple and easy meals lately… I know that's not usually my M.O. (that's modus operandi for those of you not obsessed with Law and Order), but things have changed a bit around here. While I would love to be making homemade ravioli and spending hours in the kitchen making homemade puff pastry, that's just not how things are working.
I am doing much better after my surgery a few weeks ago… I am gradually getting back into the kitchen (but not lifting anything over 10 pounds!), but my energy is limited. Many days, I need a nap by lunchtime, and my energy for making dinner really isn't what it used to be. I'd much rather focus on homemade ice cream and make something simple for dinner. I have priorities!
But, here's the thing… Even though my energy and motivation may be lacking, we still need to eat! My hubby is a great sport and has taken great care of me, but he works hard and doesn't always have the time and energy to deal with dinner… I hate to ask him to do even more around the house, so I've been doing my best to come up with simple meals that taste great and don't require too much energy from either of us!
This grilled pork is a perfect example… It was so easy to make, and you can't beat the flavor! I was lucky enough to receive a jar of this amazing Peach Chutney from Tracy over at Sugarcrafter, and I knew it would be perfect with some pork.  I just added my own quick spice rub at lunchtime (before my nap!) and let the pork rest in the fridge all afternoon.  Then, we grilled it for dinner (that's something my hubby excels at!) and added the peach chutney… Quick, easy, delicious. I even had enough energy to take a few photos… And, we had leftovers for another night!
Smokey Peach Grilled Pork
(Serves 6)
1 tablespoon brown sugar
1 teaspoon sweet paprika
1 teaspoon Kosher salt
1/2 teaspoon chipotle chili powder
1/2 teaspoon allspice
2 pounds pork tenderloin
Peach chutney
(I recommend this recipe from Sugarcrafter… I can't wait to try it!)
At least two hours before grilling, mix together the brown sugar, paprika, salt, chipotle chili powder, and all spice. Rub the spice mixture all over the pork tenderloin, covering all sides. Wrap tightly with plastic wrap and refrigerate.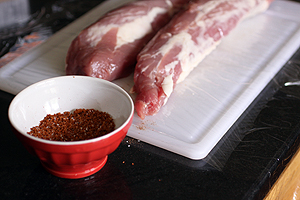 Grill the pork on medium heat until it reaches an internal temperature of 145°F.  Transfer the grilled pork to a cutting board, cover with aluminum foil, and let it rest for 10 minutes.
After the pork has rested, slice it and serve it topped with peach chutney.