I cannot keep track of how many different brownie recipes I have tried… Some have worked, some haven't. Some have turned out cakey (not my thing), and some are chewy and fudgy (my preference).  And, of course, there were the ones that had a giant crater in the middle and turned to rock on the edges… I won't share that recipe.
I am, however, going to share my current favorite recipe for brownies.  I say "current" because I doubt that I will stop trying new brownie recipes. I like to try new things! And, I can be somewhat finicky, so my favorite may change over time.  I also won't call these the "best" brownies.  That's a word that I don't use lightly… And, everyone has a different brownie preference.  My best is probably not your best… And, like I said, I'm finicky sometimes… I'm not sure these are the best. They are just currently my favorite. And, I've made them three times in the last few weeks. So, I thought they were worthy of sharing.
So, if you're a fan of rich, dark chocolatey, fudgy brownies, I'd recommend giving these a try. They are simple to make, and can be mixed up in a single sauce pan (not a bowl, but it's the next best thing!).  Just be sure not to overbake them.  Much like cookies, a perfectly good brownie recipe can be quickly ruined by overbaking!
My Favorite Fudgy Brownies
(Adapted from the King Arthur Flour Cookie Companion)
3/4 cup (1 1/2 sticks) unsalted butter
2 cups granulated sugar
1 cup cocoa powder
1 tablespoon pure vanilla extract
1 teaspoon instant espresso powder
1 teaspoon sea salt
1/2 teaspoon baking powder
3 eggs
1 cup all purpose flour
1 cup dark chocolate chips
(I like bittersweet 60% cacao chips)
Preheat the oven to 325°F.  Spray a 9 by 13-inch pan with baking spray (or lightly grease), and set aside.
In a large saucepan over medium heat, melt the butter.  Add the granulated sugar.  Stir and continue to cook for a few minutes to melt some of the sugar in the butter.
Remove from the heat and add the cocoa powder, vanilla extract, espresso powder, sea salt, and baking powder. Add the eggs, and stir until the mixture is smooth and the eggs are fully incorporated.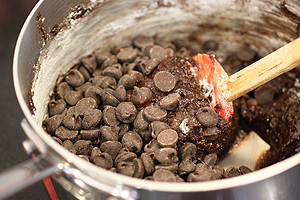 Stir in the flour.  Add the chocolate chips, and gently stir them into the batter. Transfer the batter to the prepared baking pan and bake for about 30 minutes, until a toothpick inserted in the center comes out with just a few wet crumbs. Be sure not to overbake! I typically start checking the brownies around 27-28 minutes.
Allow the brownies to cool in the pan on a wire rack before slicing.
Please Note – The link to the King Arthur Flour Cookie Companion provided in this post is an Amazon affiliate link.