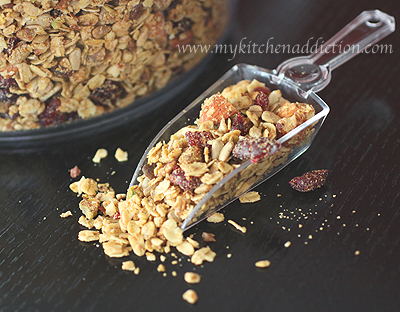 It has been a long time since I made homemade granola. I'm not really sure why… It's not difficult! While I'm not much of a cereal fan, I do enjoy having granola with fresh fruit and yogurt during the summer.
A few months ago, I was in New York City, and I got to have lunch with the lovely Jennifer Perillo. She gave me a jar of her homemade granola to snack on during my train ride home… And, I was hooked! It was just the inspiration I needed to start making granola at home again.
With Jennie's recipe as my inspiration (I especially loved the pistachios!), I set out to make some homemade granola of my own. I was immediately reminded of how simple and easy granola can be… It came together in just a few minutes, and I was able to let it bake while I was working on other things around the house! It's a win-win.
Maple Cinnamon Granola
(Inspired by Pistachio, Sesame Seed, and Dried Cherry Granola from In Jennie's Kitchen)
4 cups rolled oats
1 cup raw almonds, roughly chopped
1 cup walnuts, roughly chopped
1 cup raw pistachios, roughly chopped
1 cup sunflower seeds
1/2 cup ground flax
1 1/2 teaspoons ground cinnamon
Pinch of Kosher salt
1/2 cup extra virgin olive oil
1/3 cup pure maple syrup
2 cups dried cranberries
Preheat the oven to 300°F.
In a large mixing bowl, stir together the oats, almonds, walnuts, pistachios, sunflower seeds, ground flax, cinnamon, and salt.
In a separate bowl, whisk together the olive oil and maple syrup.  Pour the mixture over the oats and nuts, and toss with a spatula until evenly incorporated.  Spread the mixture out on a large baking sheet or roasting pan.  Bake for about 60 minutes, stirring once or twice.
Allow the granola to cool completely on the pan.  Stir in the dried cranberries, and transfer to an airtight container.