Let me just be honest with you for a second… I'm not a wine connoisseur.  Sure, I like to have a glass of wine with dinner on occasion.  And, I like a nice fruity dessert wine in the evening.  But, you won't catch me waxing philosophic about the subtle undertones or earthy aromas in a glass of wine.
It's more likely that you'll find me sipping on a nice fruity cocktail… That's a bit more my style! I especially love citrusy, tart cocktails like mojitos and lemon drop martinis.  This summer, I've also discovered a new favorite – hard cherry lemonade! It's the easiest cocktail to make… Just add a splash (or a little more!) of cherry infused vodka to your favorite lemonade. Perfectly refreshing and easy!
When I had a few fresh cherries left over last week, I decided to take my new favorite cocktail and turn it into a quick and easy frozen dessert! In fact, it's about as quick and easy as desserts get… Only 3 ingredients! Plus, it's pretty versatile… If you freeze the sorbet in an ice cream maker, you can enjoy it immediately right out of the ice cream maker. It will have the consistency of a frozen drink (yum!).  But, if you pop it in the freezer for a few hours, it will harden a bit more to a scoopable consistency. Either way, it works for me!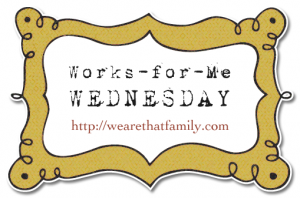 I'm submitting this post to Abby Dodge's #BakeTogether challenge! This month's theme was "Strawberry Sorbet – YOUR WAY" and since strawberries are no longer in season here, I thought cherry sorbet would be a perfect substitute.  Right now "my way" means taking it easy, so this sorbet was just perfect for me!
Hard Cherry Lemonade Sorbet
(Serves 6 – 8)
3 cups lemonade, chilled
1/2 cup cherry infused vodka, chilled
(My favorite is Three Olives, but Smirnoff isn't bad, either… And, it was in the fridge!)
1 cup pitted and chopped sweet cherries, chilled
Stir together the lemonade and vodka in a pitcher.  Pour the mixture into an ice cream maker and freeze according to the manufacturer's directions. Once the mixture has mostly frozen, add the chopped cherries into the machine and finish freezing the sorbet.
Enjoy the sorbet immediately or transfer to an airtight container and store in the freezer.  If the sorbet is too hard when you remove it from the freezer, simply scrape a fork through it to loosen it up before scooping.