Given the choice between a chewy cookie and a crisp cracker, I will always go for the cookie.
So, last week I decided to try to improve on a summertime favorite… The graham cracker.  Yeah, everyone loves them in s'mores, but don't you agree that they could use a bit of improvement? If you ask me, graham crackers really are only good for s'mores (and cheesecake crust, I suppose)… And, occasionally slathered with Nutella as a snack (when I'm desperate), but I digress.
To make a long story short, I decided to take all of the flavors of a graham cracker and transform them into a soft, chewy cookie. I started with my favorite sugar cookie recipe from the King Arthur Flour Cookie Companion (on a side note, if you don't have that book, you should consider getting a copy… I use mine all the time!), and made a few changes until I reached chewy graham cookie perfection. To finish it off, I rolled the cookies in cinnamon sugar before baking, since the cinnamon sugar coating on graham crackers was one of their few redeeming qualities.  Don't tell me you didn't lick the cinnamon sugar off of the top of your graham crackers as a kid (or was that just me?).
These cookies are amazing on their own… Or with a glass of cold milk.  Of course, you could swap the cookies for graham crackers for your campfire s'mores on the Fourth of July, too. That would be fabulous! And, if that's not enough, drop by again on Thursday for another fun recipe that uses these cookies!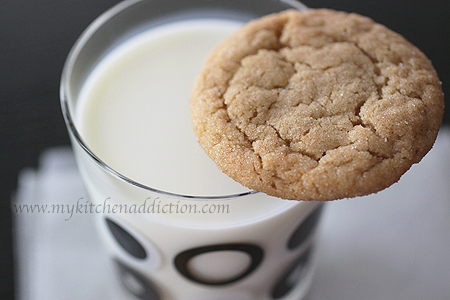 Chewy Graham Cookies
(Makes approximately 3 dozen, adapted from the King Arthur Flour Cookie Companion)
For the cookie dough:
3/4 cup (1 1/2 sticks) unsalted butter, softened
3/4 cup granulated sugar
1/2 cup dark brown sugar
1/4 cup honey
1 1/2 teaspoons baking powder
1 teaspoon ground cinnamon
1 teaspoon pure vanilla extract
1/2 teaspoon baking soda
1/2 teaspoon salt
1 egg
2 1/2 cups all purpose flour
For the cinnamon sugar coating:
1/4 cup granulated sugar
1/4 teaspoon ground cinnamon
Preheat the oven to 375°F. Line a baking sheet with a nonstick liner (or parchment paper), and set aside.
To prepare the cookie dough, cream together the butter, sugar, brown sugar, honey, baking powder, cinnamon, vanilla, baking soda, and salt.  Add the egg and beat until incorporated into the creamed mixture. Stir in the flour.
In a small bowl, stir together the sugar and cinnamon for the cinnamon sugar coating.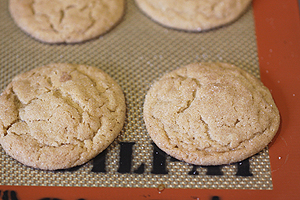 Scoop out rounded tablespoons of the dough, shape them into balls, and roll each ball in the cinnamon sugar coating.  Place each one on the prepared cookie sheet. Bake for 9-10 minutes, until the cookie is just set and slightly golden. Be careful not to overbake!
Allow the cookies to cool on the baking sheet for a few minutes, then transfer to a wire rack to cool completely.
Please Note – The links to the King Arthur Flour Cookie Companion provided in this post are Amazon affiliate links.