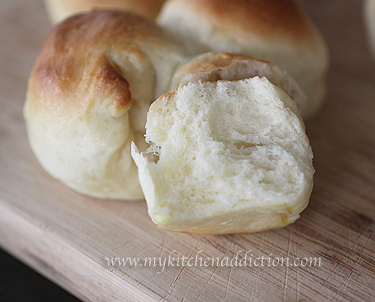 If you ask anyone in my family, they will tell you that these are the ultimate dinner rolls. But, I can't really take credit for them.
These are my grandmother's famous rolls…  Whenever we would have get togethers with the whole family, she would make a big batch of these rolls. They were a holiday staple for years. My brother and cousins would fight over them, and I'm pretty sure that there were times where they each had more than 10 rolls in one meal. They really are that good.
My grandmother was a great cook and baker. Though she passed away a few years ago, I often think of her when I am in my kitchen. I am fortunate enough to have many of her recipes, and though I can't prepare them quite the way she did, they always remind me of her.
Until recently, the recipe for her rolls was one of the few recipes that I didn't have. In December, my mom and I were putting together a book of family recipes for my brother and his new wife.  When we asked around for recipes, one of my cousins happened to have the recipe for the rolls. We put it in the book (especially since my brother was one of the biggest fans of the rolls), and I set out to learn to make them myself.
Perhaps my grandmother is looking down on me, because there's just something about these rolls that always amazes me.  They really are quite simple to make, and they always turn out beautifully.  They are the lightest, softest dinner rolls I have ever made. They're also pretty adaptable. I have swapped out the all purpose flour for whole wheat, added flax, used oil in place of the butter, and even made them with herbs and cheese. The rolls also make fantastic buns for hot dogs and hamburgers… You'll want to keep the recipe on hand this summer!
Though I'd encourage you to try your own versions of these rolls, I really do think that the original is the best.  I've halved the recipe here, and have adapted it slightly to use readily available dry active yeast.  There are no fancy flours and they may not be packed with extra fiber and whole grains… But they are perfect in their simplicity.  They are one of my family favorites, and I hope you'll enjoy them as much as I have!
Light and Soft Dinner Rolls
(Makes 18 dinner rolls or 12 sandwich rolls)
1 cup warm milk
1/4 cup granulated sugar
2 1/2 teaspoons dry active yeast
1 teaspoon Kosher salt
1 egg
1/4 cup (1/2 stick) unsalted butter, softened
(or cut it into small chunks and microwave for about 15 seconds)
3 – 3 1/2 cups all purpose flour
Egg wash (1 egg + 1 teaspoon water), optional
Sesame seeds, optional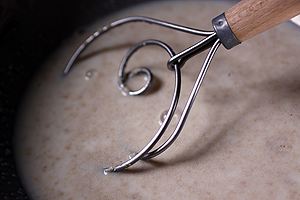 Begin by combining the milk, sugar, yeast, and salt in a large mixing bowl.  Whisk together until the yeast and sugar are mostly dissolved.
Add the butter and egg.  Stir to incorporate and break up the egg.  Add 1 cup of flour and beat vigorously to fully incorporate the flour and any lumps of butter that may have been remaining.
Gradually, add the remaining flour, stirring until the dough begins to pull away from the sides of the bowl. Knead the dough with your hands, adding just enough flour to keep the dough from sticking to your hands.  Knead for about 5 minutes, until the dough is smooth, but still light and soft.
Transfer the dough to a lightly greased bowl.  Cover with plastic wrap and let rise in a warm place until the dough has doubled in volume (about 1 1/2 hours).  Punch the dough down, reshape into a ball, and let rise a second time until the dough has doubled in volume again (an additional hour).
Preheat the oven to 425°F.  Shape the rolls and place them on a baking sheet lined with parchment paper or a silicon liner. Let the rolls rise while the oven preheats, until they are a bit puffy.  If desired, brush the tops of the rolls with some egg wash (to make them shiny) and sprinkle with sesame seeds (I usually do this for the hot dog and hamburger buns).  Bake for about 12 – 14 minutes, until the rolls are golden on top.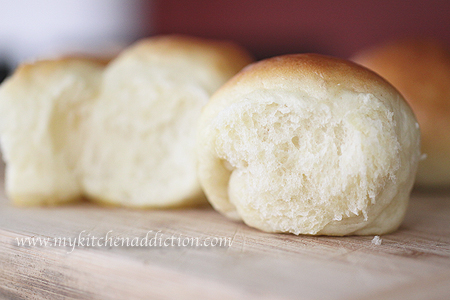 Let the rolls cool for about 10 minutes on the baking sheet, and then transfer to a wire rack. The rolls are best served warm, but they will keep for a few days in an airtight container, or wrapped in plastic.