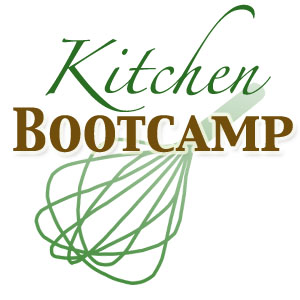 Warmer weather is on the way… I was doubtful for a while, but the last week or two have proven that it is true!
When the weather is warm, I always have one thing on my mind… Ice cream!  So, naturally, that has affected my choice for the May Kitchen Bootcamp challenge.  I knew that I wanted to choose something from the Baking and Pastry section of The Professional Chef, but when I saw the Custards, Creams, and Mousses chapter (Chapter 37), I knew that was the one I had to choose!
Don't worry, there's a lot more to the chapter than just ice cream.  It's actually a pretty versatile one that includes everything from vanilla sauce to bread pudding (or both!), pastry cream to crème brûlée, and chocolate soufflé to ice cream (of course!).  Can you understand why I'm so excited?
There are a lot of great dessert techniques in this chapter, so I'd encourage you to dive in and learn a new thing or two.  After all, that's the point of the Kitchen Bootcamp challenges! I love learning new techniques in the kitchen, and I can't wait to dive into this chapter!
When it comes to learning new techniques, I strongly recommend The Professional Chef. As with each challenge, though, you are welcome to use whatever sources you have on hand.  If you're new to my Kitchen Bootcamp challenges, be sure to check out all of the details on my Kitchen Bootcamp page!
Challenge Update…
Due to my upcoming surgery, I will be extending the challenge until Wednesday, June 15th.  Be sure to submit your blog posts by Tuesday, June 14th!
Please Note – The links to The Professional Chef provided in this post are Amazon affiliate links.