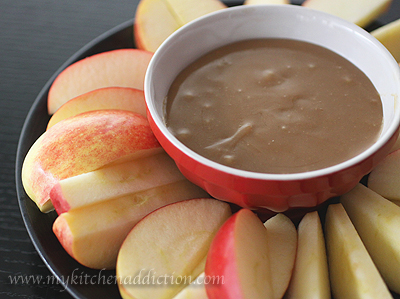 I've been in a bit of a funk lately… That's the best way I can think to describe it.
We've just had a lot going on for the past few weeks, and it's drained me of all energy and inspiration… I just haven't been myself. I know I will be fine… Things are gradually getting back to normal around here, and I think that's just what I need.
One of the hardest things about my recent mood has been that I really haven't been in much of a mood to cook and bake.  Last weekend I had told some friends that I would bring a warm caramel dip to a dessert-themed party they were having. I had all intentions of caramelizing sugar and making the dip from scratch… The right way, so to speak.  But, when all was said and done, I was in no mood for it.
When I'm not in the mood to cook, I often struggle with these moral dilemmas about what I feel is the "right way" to make something.  In my mind, the only real way to do caramel is to start with sugar, melt it on the stove, and make caramel sauce. There is no other way.
It takes a lot for me to give in and allow myself to cheat a bit.  I don't do it often, and I always feel guilty about it. But, there are times where I have to put my sanity first… And, if a simpler recipe that's not quite as "from scratch" will give me a break and a little bit of peace of mind, I can be OK with it… Well, I'm working on being OK with it.
This caramel dip is one of those recipes.  I'm sharing it, not because I think it's the "right" way to make caramel, but because I think it's where I'm at at the moment.  In spite of my food guilt about the dip, it was a hit at the party.
In the end, I have to admit that I did enjoy eating the dip. I was glad that I jazzed it up a bit with some peanut butter and cinnamon… The flavors were perfect with crisp apple slices. If you're in a pinch and need a party-friendly dessert, this dip may be just what you're looking for!
Warm Peanut Butter Caramel Dip
(Adapted from Gather, Makes about 3 1/2 cups)
1/2 cup (1 stick) unsalted butter
1/2 cup light corn syrup
1 cup light brown sugar
14-ounce can fat free sweetened condensed milk
1/2 cup creamy peanut butter
1/2 teaspoon ceylon cinnamon
Apple slices, pretzels, or other favorites for dipping
Begin by melting the butter in a saucepan over medium-low heat.  Add the corn syrup, brown sugar, and sweetened condensed milk.  Continue to cook, whisking until the mixture is smooth.  Bring to a boil and cook for one minute.
Remove from the heat and whisk in the peanut butter and cinnamon.  Transfer the dip to a serving dish or a small crock pot (to keep it warm for an extended period of time).  Serve warm with apple slices, pretzels, or whatever you prefer.